Medieval City: A canvas for contemporary art

Wheelchair accessible
Event details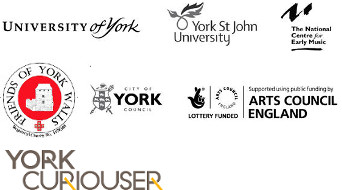 Join York Curiouser's Co-Artistic Directors Hazel Colquhoun and Lara Goodband with a panel of curators, artists and academics including Nayan Kulkani, artist; John Oxley, City of York Council City Archaeologist; Professor Michael White, Department of History of Art, University of York, and Dr Claire Hind, York St John University, who will discuss and present ideas about the Medieval city as a canvas for contemporary art. The panel will be chaired by Dr Kate Giles, Deputy Director, Humanities Research Centre, and Senior Lecturer, Department of Archaeology, University of York.
York Curiouser was initiated and is curated by the independent art curators Hazel Colquhoun and Lara Goodband. York Curiouser explores the city through contemporary art interventions. The first year of on-site contemporary art interventions took place from 14 June to 7 July 2014. This year York Curiouser is developing, researching and raising funds to create the next series of interventions in June 2016. This panel event will re-engage people with York Curiouser and prompt discussions about what could be seen and experienced in 2016.
Speaker biography
Hazel Colquhoun and Lara Goodband originated and curated York Curiouser which was installed around York from 14 June to 7 July 2014. They are independent art curators and arts consultants. Nayan Kulkarni (www.nkprojects.co.uk) is a multimedia artist whose work engages with ideas of site specificity, time, technology and perception. John Oxley is the City of York Council's Archaeologist and an expert in working with contemporary artists in historic spaces. Dr Claire Hind is Associate Professor and Course Leader in Theatre & Performance at York St John University and a leading contemporary performance creator and writer (www.garyandclaire.com).
Professor Michael White, History of Art University of York, has published widely on twentieth-century art, particularly the European avant-garde, and curated exhibitions at Tate Modern and Tate Liverpool.
Additional links