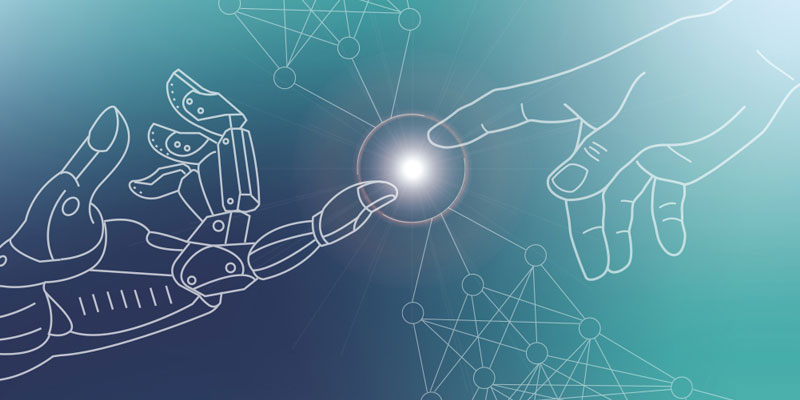 AI and Us: The future of health and social care Praminda Caleb-Solly, Claire Jepson, Helen Weatherly and Ibrahim Habli (Chair)
Panel discussion
Talk
This event has now finished.
Date and time:

Sunday 9 June 2019, 2.30pm to 4pm

Location:

Ron Cooke Hub, Campus East, University of York (Map)

Audience:

Open to the public

Admission:

Free admission, booking required
Event details
With the number of over-65s needing 24-hour care likely to rise by third over the next 20 years, adult social care is high on both political and personal agendas.
Could Artificial Intelligence (AI) be the key to solving this growing crisis? Will it give us increased independence - or fuel the 'loneliness epidemic'? Do robot carers preserve our dignity or undermine our humanity?
As part of our special Festival Focus Day on Artificial Intelligence, our expert speakers discuss what AI might mean for our future health. Speakers include Praminda Caleb-Solly of the University of the West of England, Claire Jepson of Sheffield Health and Social Care NHS Foundation Trust and Helen Weatherly of the University of York. Thes session is chaired by Ibrahim Habli of the University of York.
Brought to you in collaboration with the Assuring Autonomy International Programme, which is supported by the Lloyd's Register Foundation and the University of York.
Travelling to the event
Public transport is the easiest way to travel to the University of York campus with frequent bus services from the city centre. If travelling by car to Campus East (Piazza Building and the Ron Cooke Hub), please use the Field Lane and Kimberlow Lane car parks. Maps and directions are available at york.ac.uk/maps.
About the speakers
Praminda Caleb-Solly is Professor of Assistive Robotics and Intelligent Health Technologies in the Faculty of Environment and Technology at the University of the West of England and Theme Leader for Assisted Living at the Bristol Robotics Laboratory. Her multi-disciplinary background, underpinned by degrees in Electronic Systems Engineering, Biomedical Instrumentation Engineering and a PhD in Computer Science, enables her to address technical issues from a soft systems perspective in relation to human experience of technology in different contexts.
Her research covers safe, accessible and collaborative Human-Robot Interaction, Sensing and Intelligent Activity Recognition, Adaptive Machine Learning Systems and Multimodal Interfaces for people with accessibility needs. Her current portfolio of projects includes assistive robotics technology to support older adults with ageing-related impairments, intelligent data processing for smart home sensing, sensor systems for understanding children's use of powered mobility and adaptive interfaces for driverless cars. She has also co-designed an app for self-management of anxiety, SAM.
Dr Ibrahim Habli is a Lecturer in the Department of Computer Science at the University of York. His research interests are in the design and assurance of safety-critical systems, with a particular focus on intelligent systems (e.g. autonomous and connected driving) and Digital Health (e.g. ePrescribing and self-management apps). In 2015, he was awarded a Royal Academy of Engineering Industrial Fellowship through which he collaborated with the NHS on evidence-based means for assuring the safety of digital health systems.
Ibrahim's work is highly interdisciplinary, with active collaborative links with clinicians, health scientists, economists and ethicists. His research is empirical and industry-informed, with collaborative projects with organisations such as Rolls-Royce, NASA, Jaguar Land Rover and NHS Digital. Ibrahim has led/co-led research programmes funded by the EPSRC, the Royal Academy of Engineering, the EU and industry. He has been a member of several international and national safety standardisation committees (e.g. DO178C, MISRA and BSI). Ibrahim mainly teaches on York's postgraduate programmes in Safety-Critical Systems Engineering and supervises several PhD students (including practising engineers).
Claire Jepson is an experienced senior occupational therapist at Sheffield Health and Social Care NHS Foundation Trust. She works with people living with dementia who experience high levels of distress. Claire has a passion for exploring non-pharmacological interventions, including a range of creative approaches and the use of the PARO Seal.
PARO Seal is an advanced interactive robot with tactile sensors which responds to sounds and can show emotions such as surprise and happiness. When stroked it moves its head and body and opens and closes its eyes. Left untouched, PARO will call out to engage the person holding it, but will also 'sleep', encouraging the service user to settle.
Helen Weatherly is a Reader and member of the Team for Economic Evaluation for Health Technology Assessment (TEEHTA) at the Centre for Health Economics (CHE), University of York. She is Programme Co-Director of the Distance Learning Programmes in Health Economics, and is Programme Leader of the MSc in Economic Evaluation for Health Technology Assessment by Distance Learning.

Since joining CHE in 1998, Helen has undertaken many applied and methodological projects across a range of health and care areas. These include technology appraisals involving evidence reviews and economic evaluations for the National Institute for Health and Care Excellence (NICE). Her current research interests focus on the economic evaluation of social care interventions.
Assuring Autonomy International Programme
The Assuring Autonomy International Programme is a £12 million initiative funded by Lloyd's Register Foundation and the University of York to spearhead research, training and standards in the safety of robotics and autonomous systems (RAS). Our vision is to further enable the widespread and beneficial uptake of RAS by overcoming the obstacles to achieving regulatory and public acceptance.
Partners