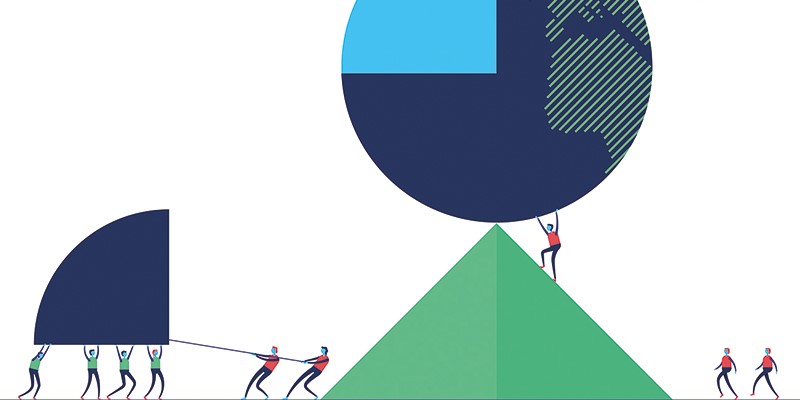 The Postcode Lottery: Globalisation and the left behind Sarah Marie Hall, Matt Leach, Martin Sandbu and Kathleen Kelly (Chair)
Talk
Panel discussion
This event has now finished.
Date and time:

Friday 7 June 2019, 3.30pm to Wednesday 26 June 2019, 5pm

Location:

RCH/037, Ron Cooke Hub, Campus East, University of York (Map)

Audience:

Open to the public

Admission:

Free admission, booking required
Event details
Is an unfair economic system and globalisation responsible for creating the 'left behind' – people who feel marginalised and insecure, trapped in poverty?
As part of our Festival Focus Day A Fair Economy. A Better World we discuss how we can create more inclusive economies. Speakers include Matt Leach, Chief Executive of Local Trust; Sarah Marie Hall of the Women's Budget Group (WBG), a not-for-profit organisation that monitors the impact of government policies on men and women; and Martin Sandbu, Economics Commentator at The Financial Times and Journalist Fellow, Friends Provident Foundation. The session is chaired by Kathleen Kelly, a Friends Provident Foundation Trustee and independent consultant.
Why not come along and join in the conversation?
Travelling to the event
Public transport is the easiest way to travel to the University of York campus with frequent bus services from the city centre. If travelling by car to Campus East (Piazza Building and the Ron Cooke Hub), please use the Field Lane and Kimberlow Lane car parks. Maps and directions are available at york.ac.uk/maps.
This event is part of a Festival Focus Day presented in partnership with the Friends Provident Foundation. You may be interested in the related events The Future of Economics: Transforming the discipline and The Women Shaping the New British Economy.
About the speakers
Dr Sarah Marie Hall is a Senior Lecturer in Human Geography, ISRF Fellow and Morgan Centre Member at the University of Manchester. Her research sits in the broad field of feminist political economy: understanding how socio-economic processes are shaped by gender relations, lived experience and social difference. Sarah has been a member of the Women's Budget Group Management Committee since 2014, and is particularly involved in conducting and advising on qualitative research strategy and public engagement activities.
Kathleen Kelly is a Friends Provident Foundation Trustee and an independent consultant currently working as Assistant Director of Communities and Social Policy at Greater London Authority. Prior to setting up her consultancy, she was Assistant Director of Policy and Research at the National Housing Federation. With a background in law and economics her career has focused on social policy development and achieving social change. She was at the Joseph Rowntree Foundation for over nine years leading social research and policy development programmes on issues such as housing market volatility. Prior to that Kathleen was in the Research, Analysis and Evaluation team in the Office of the Deputy Prime Minister where she evaluated major government programmes and led blue skies research on issues such as homelessness. Kathleen is on the advisory board for the Centre for Analysis of Social Exclusion at the London School of Economics.
Matt Leach is Chief Executive of Local Trust, overseeing operations, leading the staff team and working closely with the board on strategy and governance. Matt also develops Local Trust's partnerships across the public, private and voluntary sectors. He was formerly CEO of HACT, the social housing sector's ideas and innovation agency. Prior to joining HACT in 2011, Matt's roles included CEO of civil society funding agency Capacitybuilders, Associate Director of the ResPublica think tank and Director at the Housing Corporation. He has also led start up work on the London Thames Gateway Development Corporation and held a range of senior roles at DCLG and the Cabinet Office.
Martin Sandbu is Economics Commentator at The Financial Times and Journalist Fellow, Friends Provident Foundation. He has been writing about economics for the FT since 2009, when he joined the paper as Economics Leader Writer. He now writes the FT's Free Lunch. Previously, he worked in academia and policy consulting. He has taught and carried out research at Harvard, Columbia and the Wharton School, and has advised governments and NGOs on natural resources and economic development. He is the author of two books, one on business ethics and one on the eurozone, and has degrees from Oxford and Harvard.
Partners