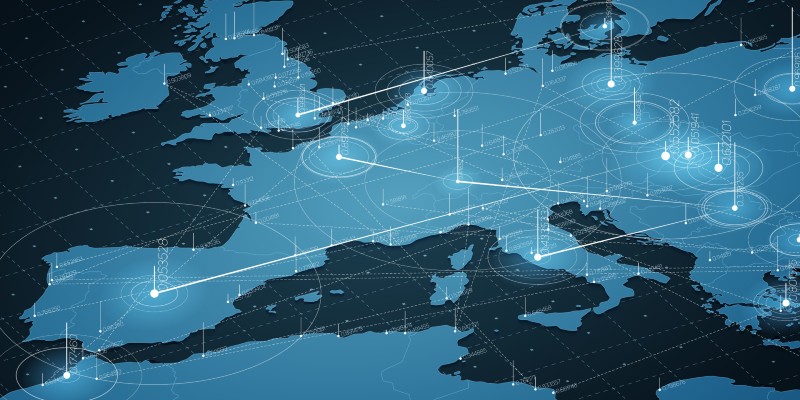 Europe's Role in Defence and Security on a World Stage Malcolm Chalmers, Brigid Laffan, Sultan Barakat and Shane O'Rourke - chaired by Gavin Esler
Panel discussion
This event has now finished.
Date and time:

Sunday 19 June 2022, 1.15pm to 2.45pm

Location:

In-person and online
Ron Cooke Hub, Campus East, University of York (Map)

Admission:

Free admission, booking required
Event details
As the war in Ukraine recalls the Cold War and the era of USA/Soviet dominance, join our panel of experts from across the globe as we explore the European Union's role in defence and security, and how the shifting geopolitical landscape poses threats that call for a unified and robust response.
In March 2022 the EU adopted a new Strategic Compass aimed at strengthening security and defence measures in the areas of crisis management, resilience, capability development and partnerships. What could this mean for tackling challenges that reach beyond military conflict to new frontiers such as economic sanctions, disinformation campaigns and threats to cyber security?
For the first half of 2022 France holds the Presidency of the Council of the European Union and their overall goal, according to President Macron, is 'to move from being a Europe of cooperation inside of our borders to a powerful Europe in the world, fully sovereign, free to make its choices and master of its destiny.'
We will question this bold aspiration, in a context in which other global powers - the USA, Russia and China - seem to be pursuing more nationalist agendas, and examine how Europe can move beyond ambition to firm commitment, paving the way for a common strategic culture, which protects The Union's interests and defends their values around the world.
This is a hybrid event that you can either attend in person or join via Zoom. You'll receive a link to join via Zoom a couple of days before the event takes place and a reminder an hour before. During the event, you can ask questions via the Zoom Q&A function, but audience cameras and microphones will remain muted throughout.
This event is part of the Festival Focus War and Peace: Threats to global security. Why not attend related sessions on Ukraine: Causes, Consequences and Implications for Global Security and Europe and the Radical Right?
Presented in collaboration with The Morrell Centre for Legal and Political Philosophy, which is generously supported by the C and JB Morrell Trust.
You may also be interested in Can Sexual Violence in Conflict Be Prevented?
About the speakers
Professor Malcolm Chalmers is Deputy Director-General of Royal United Services Institute (RUSI) and directs its growing portfolio of research into contemporary defence and security issues. His own work is focused on UK defence, foreign and security policy. His most recent papers have been on nuclear escalation risks and the Ukraine war, national interest and UK foreign policy, tensions between the rules-based international systems, UK defence budgeting, and the security implications of Brexit. Chalmers has been an Adviser to Parliament's Joint Committee on the National Security Strategy since 2012, and was Senior Special Adviser to Foreign Secretaries Jack Straw MP and Margaret Beckett MP.
Brigid Laffan is Emeritus Professor at the European University Institute. Professor Laffan was Director and Professor at the Robert Schuman Centre for Advanced Studies and Director of the Global Governance Programme and the European Governance and Politics Programme at the European University Institute (EUI), Florence until her retirement in August 2021. Previously, Professor Laffan was Professor of European Politics at the School of Politics and International Relations (SPIRe) University College Dublin (UCD), and she was Vice-President of UCD and Principal of the College of Human Sciences from 2004 to 2011.
She was also the founding director of the Dublin European Institute UCD from 1999 and in March 2004 she was elected as a member of the Royal Irish Academy. She is a member of the Board of the Mary Robinson Foundation for Climate Justice, the Fulbright Commission (until September 2013) and was the 2013 Visiting Scientist for the EXACT Marie Curie Network.
In November 2018 she was ranked among the women who shape Europe by POLITICO and was also awarded by the University of Limerick Alumni Association with its highest honour. In September 2014 Professor Laffan was awarded the UACES Lifetime Achievement Award. In 2012 she was awarded the THESEUS Award for outstanding research on European Integration. In 2010 she was awarded the Ordre national du Mérite by the President of the French Republic.
Sultan Barakat is the Founding Director of the Center for Conflict and Humanitarian Studies (2016-2022), which he founded in 2016, and a Professor at the Doha Institute for Graduate Studies in Doha, Qatar. CHS is the leading centre for research and policy analysis on conflict and humanitarian action in the Arab world. Prior to establishing CHS, Professor Barakat was a Senior Fellow at the Brookings Institution's Center for Middle East Policy and served as the Director of Research at the Brookings Doha Center. Professor Barakat is an Honorary Professor in the Department of Politics at the University of York, where he founded and led the Post-war Reconstruction and Development Unit (PRDU) between 1993 and 2016. He received the University of York Vice-Chancellor's Gold Award for Excellence in May 2011. Professor Barakat has over 25 years of professional experience working on issues of conflict management, humanitarian response, and post-conflict recovery and transition. He is regularly engaged in providing guidance as a Senior Advisor and Consultant to the United Nations, the World Bank, European Union, DFID, ILO, IFRC and a variety of governments and international non-governmental organizations including CARE and Oxfam. He has led major evaluations and programming initiatives in Afghanistan, Bosnia-Herzegovina, Colombia, Croatia, Egypt, Indonesia, Jordan, Kosovo, Lebanon, Palestine, Philippines, Somalia, Sri Lanka, Sudan, Syria, Uganda and Yemen. His work has been published widely.
Shane O'Rourke is a historian of Russia in the nineteenth and twentieth centuries and has written extensively on various aspects of Russian history, including post-Soviet history. He has been a frequent visitor to Russia and Ukraine over the past 35 years, including being an eye-witness to the Russian take-over in Luhansk and Donetsk in the spring of 2014. He is a Senior Lecturer in the Department of History at the University of York.
Gavin Esler is an award winning broadcaster and podcaster, journalist and writer. He is the holder of a Royal Television Society award, a Sony Gold (radio) award, and two Lovie awards for his podcast series about Vladimir Putin, The Big Steal. He is author of five novels (Loyalties, Deep Blue, The Blood Brother, A Scandalous Man and Power Play) and four non-fiction books (The United States of Anger, Lessons from the Top, Brexit Without the Bullshit and How Britain Ends). Lessons from the Top was inspired by Gavin's conversations and interviews with numerous heads of state and world leaders, including Bill Clinton, Angela Merkel, Tony Blair, Margaret Thatcher, and many other accomplished communicators. Gavin is known for his reporting and presenting work at the BBC, and has been the main presenter on Dateline London on the BBC News Channel and BBC World and numerous other programmes, including Hardtalk. He left the BBC in 2018 and is now a freelance journalist and writer. Connect with Gavin on Twitter
Partners