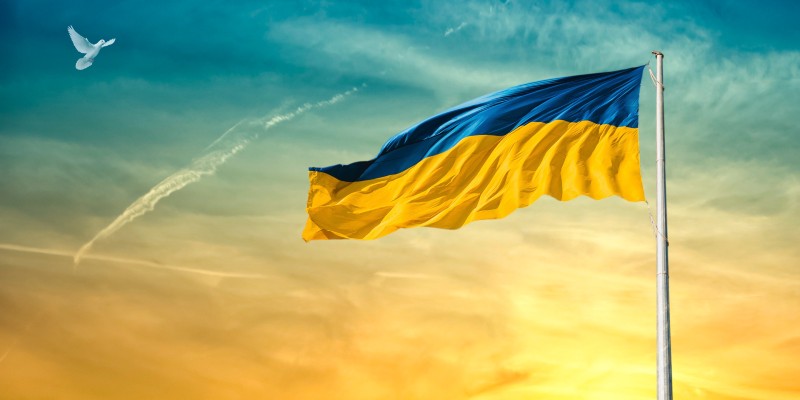 Ukraine: Causes, consequences and implications for global security Gavin Esler, Sam Greene, Olesya Khromeychuk and Ambassador Stefano Pontecorvo - chaired by Sultan Barakat
Panel discussion
This event has now finished.
Date and time:

Sunday 19 June 2022, 11am to 12.30pm

Location:

In-person and online
Ron Cooke Hub, Campus East, University of York (Map)

Admission:

Free admission, booking required
Event details
Vladimir Putin's war on Ukraine is at once shockingly unexpected and the culmination of recent geopolitical events. How did we get here and to what extent does history explain both Putin's gamble and the various responses to it? What will be the consequences of the way in which the war ends, and what will be the implications for global security?
Join our panel of experts as they discuss the causes, consequences and implications of the invasion and war in Ukraine.
This is a hybrid event that you can either attend in person or join via Zoom. You'll receive a link to join via Zoom a couple of days before the event takes place and a reminder an hour before. During the event, you can ask questions via the Zoom Q&A function, but audience cameras and microphones will remain muted throughout.
This event is part of the Festival Focus War and Peace: Threats to global security. Why not stay for related sessions on Europe's Role in Defence and Security on a World Stage and Europe and the Radical Right?
Presented in collaboration with The Morrell Centre for Legal and Political Philosophy, which is generously supported by the C and JB Morrell Trust.
You may also be interested in Can Sexual Violence in Conflict Be Prevented?
About the speakers
Gavin Esler is an award winning broadcaster and podcaster, journalist and writer. He is the holder of a Royal Television Society award, a Sony Gold (radio) award, and two Lovie awards for his podcast series about Vladimir Putin, The Big Steal. He is author of five novels (Loyalties, Deep Blue, The Blood Brother, A Scandalous Man and Power Play) and four non-fiction books (The United States of Anger, Lessons from the Top, Brexit Without the Bullshit and How Britain Ends). Lessons from the Top was inspired by Gavin's conversations and interviews with numerous heads of state and world leaders, including Bill Clinton, Angela Merkel, Tony Blair, Margaret Thatcher, and many other accomplished communicators. Gavin is known for his reporting and presenting work at the BBC, and has been the main presenter on Dateline London on the BBC News Channel and BBC World and numerous other programmes, including Hardtalk. He left the BBC in 2018 and is now a freelance journalist and writer. Connect with Gavin on Twitter
Sam Greene is professor in Russian politics and Director of the Russia Institute at King's College London. Prior to moving to London in 2012 to join King's, he lived and worked in Moscow for 13 years, most recently as director of the Centre for the Study of New Media and Society at the New Economic School, and as Deputy-Director of the Carnegie Moscow Center. He holds a PhD in political sociology from the London School of Economics & Political Science.
His most recent book, co-authored with Graeme Robertson, is Putin v the People: The Perilous Politics of a Divided Russia, published in 2019 by Yale University Press. His previous book, Moscow in Movement: Power & Opposition in Putin's Russia, was published in 2014 by Stanford University Press. Sam's academic work has been published in leading disciplinary and area studies journals, including Comparative Political Studies, Perspectives on Politics, The Journal of Democracy, Post-Soviet Affairs and Problems of Post-Communism. He regularly contributes opinion and analysis pieces to general interest publications, such as The Washington Post, The Moscow Times, Foreign Policy, The New Statesman and others, and is a frequent commentator in British, American, Russian and European broadcast and print media.
Alongside his work at King's, Sam is an Associate Fellow of the International Institute for Strategic Studies; a Trustee of Pushkin House; Editor-in-Chief of Russian Politics & Law, and is currently a George F. Kennan Fellow at the Wilson International Center for Scholars, in Washington.
Olesya Khromeychuk is a historian and writer. She has taught the history of East-Central Europe at several British universities. Khromeychuk is the author of A Loss. The Story of a Dead Soldier Told by His Sister (2021) and "Undetermined" Ukrainians. Post-War Narratives of the Waffen SS "Galicia" Division (2013). She is currently the Director of the Ukrainian Institute London.
Ambassador Stefano Pontecorvo is the former Italian Ambassador to Pakistan where he served until February 2020. In this capacity he has followed closely Pakistan's involvement in regional politics with a particular focus on Afghanistan and Pakistan's role in the recent developments.
Previously, from January 2013 to October 2015 he was the Diplomatic Advisor to the Italian Defence Minister. He has also served as Deputy Head of Mission in the Italian Embassy in London (2010–2012), as Deputy Director General for Sub-Saharian Africa in the Italian MFA (2009-2010) and as Deputy Head of Mission in the Italian Embassy in Moscow (2007-2009).
From 2005 to 2007 Ambassador Pontecorvo was Chief of Staff of the State Secretary for Europe. He has also held the position of Head of the Financial Division of the Directorate General for Development Cooperation (2004-2005).
In his earlier career he has held various positions in Brussels, in the then EU Council General Secretariat (1997-1999) as Head of the Balkans Desk in CFSP, then attached to the Stability Pact for South Eastern Europe as Head of the Table responsible for Stability and Security in the Balkans (1999-2001) and finally posted to the Italian Permanent Delegation to the EU where he served as RELEX Counselor and Deputy PSC Representative from 2001 to 2004.
Ambassador Pontecorvo served as political counsellor at the Permanent Delegation of Italy to NATO from 1992 to 1995 and subsequently (1996-1997) as PA to the Secretary General of the Italian Ministry of Foreign Affairs, Ambassador Boris Biancheri.
Partners