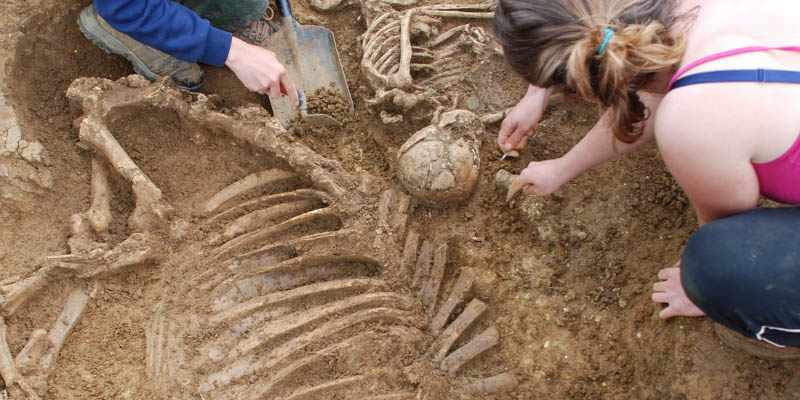 Ancient DNA and the Anglo-Saxon Migration: Community and burial practice AD 450-750 Duncan Sayer
Talk
This event has now finished.
Date and time:

Friday 9 June 2023, 6pm to 7pm

Location:

Online only

Admission:

Free admission, booking required
Event details
Migration is a big topic today, but it was also important in our past.
Groundbreaking scientific methods can be used to explore past lives in ways unprecedented just a few years ago.
In this fascinating talk, leading archaeologist Duncan Sayer of the University of Central Lancashire will build on a recent paper published in Nature to describe how ancient DNA is helping us to explore the movement of people in the early Middle Ages, between AD 450-750.
Duncan will explain how ancient DNA evidence from several early Anglo-Saxon cemeteries is used to explore the lives of individuals, to disentangle their histories and explain how relationships played out within their communities across different ancestries evident from the genetic data.
Find out how, with this level of microhistory, it has been possible to observe African ancestors, see interaction between migrant families and identify marriage patterns.
This event will take place live on Zoom Webinar. You will receive a link to join a couple of days before the event and a reminder an hour before. During the event, you can ask questions via a Q&A function, but audience cameras and microphones will remain muted throughout.
Image credit: © Duncan Sayer
About the speaker
Duncan Sayer is a leading expert in historical archaeology and has a particular interest in early medieval cemeteries, migration, death, burial and ethics. Duncan has led field work projects for over 20 years. Most recently these have included Oakington early Anglo-Saxon cemetery and Ribchester Roman fort. Duncan is currently collaborating with DNA labs at Harvard and Max Planck to put together one of the largest ancient DNA projects in Europe.
Partners