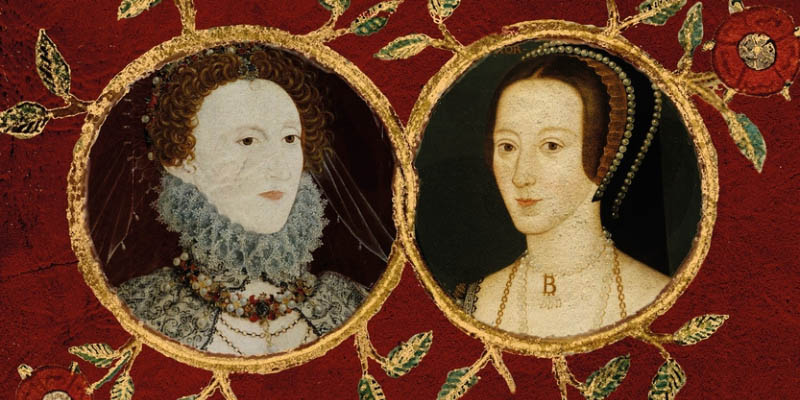 Anne Boleyn and Elizabeth I: The mother and daughter who changed history Tracy Borman
Talk
This event has now finished.
Date and time:

Tuesday 13 June 2023, 6pm to 7pm

Location:

In-person only
Piazza Building, Campus East, University of York (Map)

Admission:

Free admission, booking required
Event details
Join bestselling author, historian and broadcaster Tracy Borman to hear one of the most extraordinary mother-and-daughter stories of all time - that of Anne Boleyn, the most famous of Henry VIII's wives, and her daughter Elizabeth, the 'Virgin Queen'.
Anne Boleyn is a subject of enduring fascination. She has inspired books, documentaries and films, and continues to be intensely debated even today, almost 500 years after her violent death.
For the most part, Anne is considered in the context of her relationship with Tudor England's much-married monarch. Dramatic though this story is, of even greater interest - and significance - is the relationship between Anne and her daughter, the future Elizabeth I, who was less than three years old when her mother was executed.
Nonetheless, as Tracy will reveal, Anne exerted a profound influence on Elizabeth's character, beliefs and reign.
Piecing together evidence from original documents and artefacts, Tracy will tell the story of Anne Boleyn's relationship with, and influence over her daughter Elizabeth, shedding new light on two of the most famous and influential women in history.
Book sales
You can buy copies of many of our speakers' books from Fox Lane Books, a local independent bookseller and Festival partner. In some cases, author signed bookplates are available too.
About the speaker
Tracy Borman is a bestselling author, historian and broadcaster, specialising in the Tudor period. Her books include Elizabeth's Women, Thomas Cromwell, The Private Lives of the Tudors, and Henry VIII and the Men Who Made Him. She has also written a fiction trilogy, The King's Witch, based in the court of James I. Tracy is also joint Chief Curator of Historic Royal Palaces, Chief Executive of the Heritage Education Trust and an honorary professor at Bishop Grosseteste University, Lincoln, UK. She has presented a number of history programmes for Channel 5 and the Smithsonian Channel, including The Fall of Anne Boleyn, Inside the Tower of London and Henry VIII and the King's Men. She is a regular contributor to BBC History Magazine and gives talks on her books across the country and abroad. Her latest book, Anne Boleyn and Elizabeth I: The Mother and Daughter Who Changed History, is published by Hodder & Stoughton in May 2023.
Partners