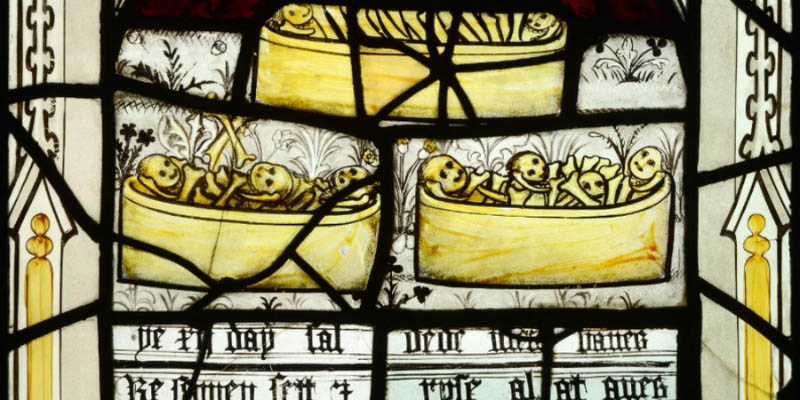 Imagining the Apocalypse: A history Andrew Crome
Talk
This event has now finished.
Date and time:

Tuesday 13 June 2023, 7pm to 8.30pm

Location:

In-person only
All Saints Church, North Street (Map)

Admission:

Free admission, booking required
Event details
It's the end of the world as they knew it…
A unique medieval stained-glass window at All Saints North Street tells the story of the last 15 days of existence as they were imagined in the 14th-century Middle English poem The Pricke of Conscience.
The window details various horrific signs of forthcoming doom, including floods, fires and the dead rising from their tombs, ending with the ultimate judgement of all human beings by their creator. As the title suggests, the intention of both the poem and the window was to encourage people to examine their consciences and repent ahead of God's judgement.
Apocalyptic thinking has persisted through the centuries to the present day, taking different forms and provoking different responses. In this fascinating talk inspired by the stained-glass window at All Saints North Street, historian Andrew Crome of Manchester Metropolitan University explains how and why people have continued to imagine the end of the world, and outlines the social and political consequences of apocalyptic beliefs.
Accessibility: Access to much of the church (excluding the chancel) is step-free and can be accessed in a wheelchair or pushchair, although there are some uneven surfaces due to the historic nature of the building. Seating in the pews and on fold-out chairs is available.
Image credit: © Barley Studios
About the speaker
Andrew Crome is a Senior Lecturer at Manchester Metropolitan University, specialising in English religious history in the 17th and 18th centuries (and occasionally the 19th and 20th too). He is particularly interested in the ways in which ideas about the apocalypse have developed through time, and in the interactions between belief, political action and everyday life.