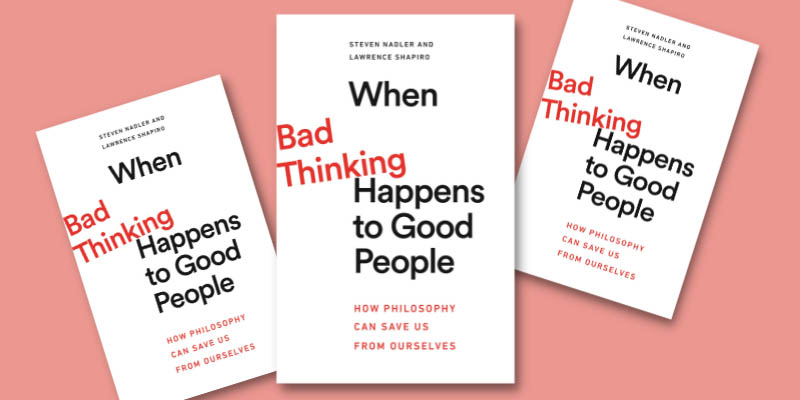 When Bad Thinking Happens to Good People: How philosophy can save us from ourselves Lawrence Shapiro
Talk
This event has now finished.
Date and time:

Wednesday 7 June 2023, 8pm to 9pm

Location:

Online only

Admission:

Free admission, booking required
Event details
There is an epidemic of bad thinking in the world today.
An alarming number of people are embracing crazy, even dangerous ideas. They believe that vaccinations cause autism. They reject the scientific consensus on climate change as a 'hoax'. And they blame the spread of COVID-19 on the 5G network or a Chinese cabal. Worse, bad thinking drives bad acting - it even inspired a mob to storm the US Capitol.
In this fascinating talk, philosophy professor Lawrence Shapiro reveals why the best antidote for bad thinking is the wisdom, insights and practical skills of philosophy.
Join Lawrence on an engaging tour through the basic principles of logic, argument, evidence and probability that can make all of us more reasonable and responsible citizens, and discover why philosophy's millennia-old advice about how to lead a good, rational and examined life is essential for escaping our current predicament.
This event will take place live on Zoom Webinar. You will receive a link to join a couple of days before the event and a reminder an hour before. During the event, you can ask questions via a Q&A function, but audience cameras and microphones will remain muted throughout.
Book sales
You can buy copies of many of our speakers' books from Fox Lane Books, a local independent bookseller and Festival partner. In some cases, author signed bookplates are available too.
About the speaker
Lawrence Shapiro is Berent Enç Professor of Philosophy at the University of Wisconsin-Madison. His research spans philosophy of mind and philosophy of psychology. He has published numerous articles on these topics in journals such as The Philosophical Review, British Journal for Philosophy of Science and Philosophy of Science. His book Embodied Cognition received the American Philosophical Association's Joseph B. Gittler Award for best book in philosophy of the social sciences (2013) and is now in its second edition (2019). His recent interest in philosophy of religion resulted in The Miracle Myth: Why Belief in the Resurrection and the Supernatural is Unjustified (Columbia University Press, 2016). His most recent book, When Bad Thinking Happens to Good People: How Philosophy Can Save Us from Ourselves (2021), is co-authored with Steven Nadler.
Partners