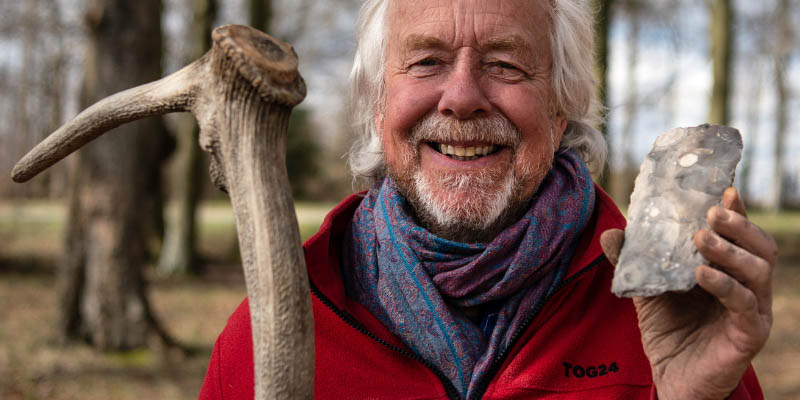 Bringing the Past to Life Julian Richards
Talk
This event has now finished.
Date and time:

Wednesday 14 June 2023, 8pm to 9pm

Location:

In-person only
Ron Cooke Hub, Campus East, University of York (Map)

Admission:

Free admission, booking required
Event details
Archaeology is all about discovery: the process of excavation and the finds that are made - the artefacts of stone, metal or pottery, and the environmental evidence that come from seeds and bone, pollen and snails.
Science takes us on another journey of discovery. The fundamental questions we ask about the past are when, who, how and why.
The 'when' can be answered by techniques such as radiocarbon, optical or tree ring dating.
The 'who' comes from the study of human remains, where advances in DNA and isotope studies help us to build up a picture of both individuals and populations, charting movements of people through time and space.
The 'how' comes from experimentation.
This leaves the 'why' as the real test - and here, science may not have all the answers. Imagination is needed to bring the past to life.
Join archaeologist, educator and broadcaster Julian Richards for a captivating discussion.
Image credit: © Harvey Mills
About the speaker
Julian Richards is an archaeologist, author and educator specialising in the prehistory of Britain and with a long-standing involvement with Stonehenge. In his long career he has directed major fieldwork projects and worked in both commercial archaeology and for English Heritage before a career change to broadcasting and education. Julian presented programmes for the BBC, both on TV ('Meet the Ancestors' and 'Blood of the Vikings' on BBC2 ) and on radio ('Mapping the Town' on Radio 4). More recently, Julian has been involved in writing, devising and delivering community archaeology projects, working with schools, making non-broadcast film and curating museum exhibitions.
Partners