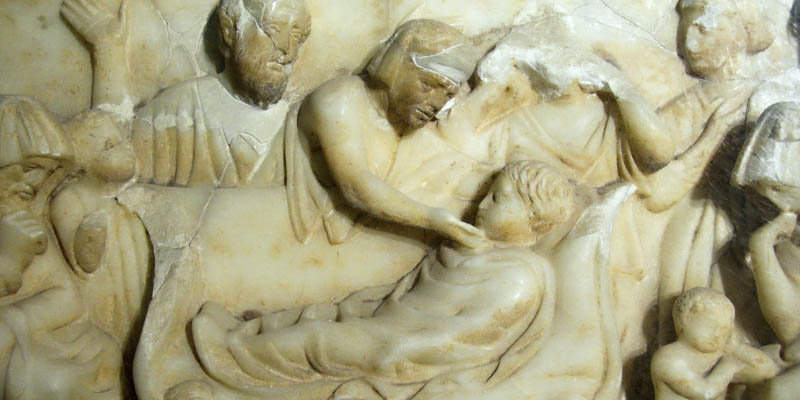 Rediscovering the Dead of Roman York Maureen Carroll, Lucy Creighton, Patrick Gibbs and James Osborn
Panel discussion
This event has now finished.
Date and time:

Saturday 3 June 2023, 10am to 11am

Location:

In-person only
Tempest Anderson Hall, Museum Gardens (Map)

Admission:

Free admission, booking required
Event details
Rediscover the archaeological treasures of Roman York in this fascinating panel discussion, which focuses on a particular Roman burial custom that, until recently, was shrouded in mystery.
For reasons we do not entirely understand, the Romans sometimes poured liquid gypsum - a mineral used in making various types of cement and plaster - over the clothed corpses of adults and children in coffins before burying them.
The rediscovery of 19th-century grave excavation records, together with 3D scans of the gypsum casts and associated grave goods in the Yorkshire Museum, has enabled researchers and curators to rebuild forgotten burial assemblages, thereby reimagining the dead of Roman York.
Come along to learn about this ancient funerary practice, made accessible to the public here for the very first time.
Content warning: Please be aware that this talk will contain sensitive content including images of human remains and burials, and the discussion of death of both adults and children.
About the speakers
Maureen Carroll is Chair of Roman Archaeology at the University of York. Her key research interests are Roman burial practices, funerary commemoration and Roman childhood studies. Her books include Spirits of the Dead: Roman Funerary Commemoration in Western Europe (Oxford University Press). She is pleased to be working on the archaeology of death and burial in Roman York in cooperation with York partners.
Lucy Creighton is Curator of Archaeology at the Yorkshire Museum (York Museums Trust). She is part of a team responsible for looking after and sharing the Yorkshire Museum's Designated Archaeology collection, which includes some of the finest Roman material from Britain. She has previously worked in other regional museums in Yorkshire and at the Museum of London. She is particularly interested in exploring innovative ways to engage audiences with archaeological collections, beyond traditional museum displays.
Patrick Gibbs heads up the technology team at Heritage360, a research and services centre at the University of York. He is a digital technologies specialist, with expertise in digital visitor engagement, web and mobile development, 3D visualisation and photography. Having initially trained as an archaeologist, Patrick now has 20 years' experience in the field of digital heritage. His interests focus on how technology can help the public better understand the past by presenting information and stories in engaging, accessible forms.
James Osborn is Digital Technology Specialist at Heritage360. He has expertise in digital visualisations, reconstructions and 3D scanning. He initially trained as an archaeologist, with a combined 15 years studying, training and working within the sector. James now focuses on digital heritage and how various technological applications can be used to inform and enhance user experience of heritage.
Partners