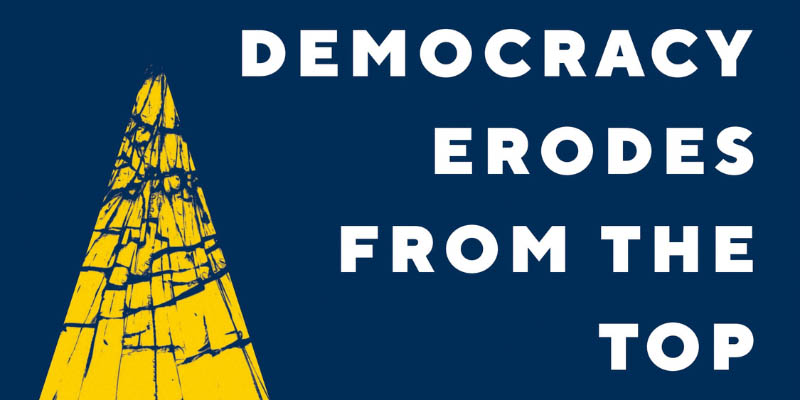 Democracy Erodes From the Top: Leaders, citizens and the challenge of populism in Europe Larry M. Bartels and Jarosław Kuisz
Talk
Date and time:

Thursday 8 June 2023, 8pm to 9pm

Location:

Online only

Admission:

Free admission, booking required
Event details
A seeming explosion of support for right-wing populist parties has triggered widespread fears that liberal democracy is facing its worst crisis since the 1930s.
In conversation with political analyst and essayist Jarosław Kuisz, political scientist and author Larry M. Bartels will reveal that the real crisis stems not from an increasingly populist public, but from political leaders who exploit or mismanage the chronic vulnerabilities of democracy.
Discover how Europe's most sobering examples of democratic backsliding - in Hungary and Poland - occurred not because voters wanted authoritarianism, but because conventional conservative parties, once elected, seized opportunities to entrench themselves in power.
Join us to have your understanding of democratic politics turned upside down.
This event will take place live on Zoom Webinar. You will receive a link to join a couple of days before the event and a reminder an hour before. During the event, you can ask questions via a Q&A function, but audience cameras and microphones will remain muted throughout.
Book sales
You can buy copies of many of our speakers' books from Fox Lane Books, a local independent bookseller and Festival partner. In some cases, author signed bookplates are available too.
About the speakers
Larry M. Bartels holds the May Werthan Shayne Chair of Public Policy and Social Science at Vanderbilt University in Nashville, Tennessee. His scholarship and teaching focus on public opinion, electoral politics, public policy and political representation. He is the author of numerous books and scholarly articles, and of commentaries in The New York Times, Washington Post and other prominent outlets. Larry has received the Warren E. Miller Prize for contributions to the study of elections, public opinion and voting behaviour, as well as Vanderbilt's Earl Sutherland Prize for Career Achievement in Research. He is a fellow of the American Academy of Arts and Sciences and of the American Academy of Political and Social Science, and a member of the National Academy of Sciences and of the American Philosophical Society.
Jarosław Kuisz is a political analyst and essayist, and editor-in-chief of the Polish weekly Kultura Liberalna, which can be translated as Liberal Culture. Jarosław is also a Chercheur associé at the Institut d'histoire du temps présent, CNRS, Paris (since 2014). His previous positions have included: Visiting Scholar at the University of Chicago Law School, Columbia Law School, co-director of The Knowledge Bridges Poland-Britain-Europe Project, St Antony's College, University of Oxford and Marie Curie Fellow at the Saxo-Instituttet, Københavns Universitet. Recently he has also been a Fellow at the Wissenschaftskolleg zu Berlin (2019-2020) and Policy Fellow at the Centre for Science and Policy, University of Cambridge (since 2021). He regularly writes for the Guardian, The New York Times, le Monde and Neue Zürcher Zeitung, and he has a column in Die Tageszeitung. His upcoming book, The New Politics of Poland, will be published in 2023 by Manchester University Press. He is currently writing another book, Posttraumatische Suveränität, on Central and Eastern Europe (for the Suhrkamp publishing house).
Partners