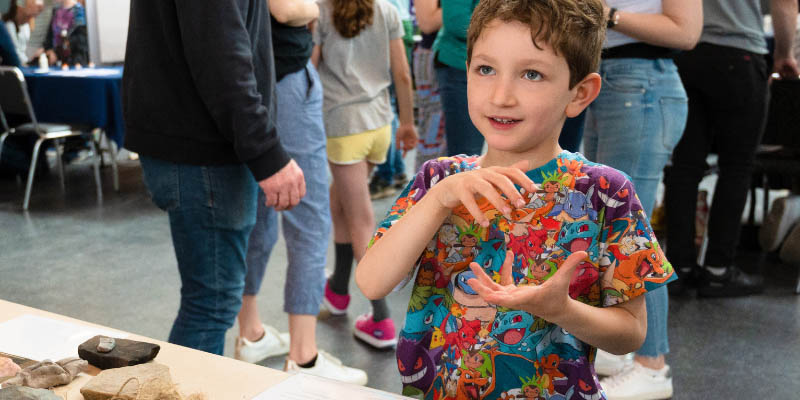 Discovery Zone
Interactive activities
This event has now finished.
Date and time:

Saturday 3 June 2023, 11am to 4pm

Location:

In-person only
Parliament Street (Map)

Admission:

Free admission, booking not required
Event details
Come along to our marvellous marquee full of fun, hands-on activities! Inspiring, inventive and family-friendly, these activities showcase the exciting research happening in York. From prehistory to robots and everything in between, there'll be something for everyone!
Join us in the heart of York and meet innovative researchers improving public knowledge in creative ways.
Activities include:
Analysing the Past: The power of archaeological chemistry
How does protein analysis reveal the secrets of the past? Chemistry can teach us about everything from Iron Age archaeology to animal fossils. Find out more through our fun games and activities!
Archaeology of Animals
How many bones are inside a sheep's hoof? When did cows first arrive in the UK? What makes a catfish skull special? Find out all this and more from the York ZooArchaeological Lab team!
Bringing the Stars Down to Earth
Could a 'star in a jar' solve the world's energy crisis? Join fusion researchers to find out how the Sun works and how making 'mini-suns' here on Earth might be the green energy solution we need for the future.
Design Challenge!
Join engineers from the University of York to have a go at designing a boat. How many marbles will it hold? Will you make the leaderboard?
Engineering a Better World
Ever wanted to direct some interactive programmable robots? Then come join the North Yorkshire Institute of Engineering for fun robot activities!
Explore Our Universe
With fun-filled, interactive activities, discover how telescopes use different types of light to find out about the origins of our Universe. Join physicists to learn about the James Webb Space Telescope, and get hands-on with rainbow glasses, infrared cameras and making your own bracelet that detects the Sun's UV light.
Marine Education and Interaction
Join Whitby Lobster Hatchery to get up close and personal with what we have in our oceans! Learn more about marine life including shells, moults, and more. Don't miss our face-hole photo board to turn yourself into a crab, lobster, cod or prawn!
Practical Science Education
Come along for a range of engaging practical science activities that you can do at school or at home!
Psych!York
What factors influence our behaviour and cognition? Find out about exciting new psychology discoveries through our interactive demonstrations and activities! Have you got questions you've always wanted to ask about the mind and brain? Our psychologists are happy to chat! Don't miss our VR exhibit and brain-hat decorating either!
Rebuilding the Past with Digital Creativity
Our libraries and archives offer tantalising glimpses of the past, but how can we fill in the gaps? In what ways can digital creativity help us to recreate our history and bring the past into the future? Join the University of York Library, Archives and Learning Services and learn how to digitally rebuild historical and artistic materials. You can even make your own printed chapbook from our template!
Reimagining Life in Prehistoric Yorkshire
What was life like in early prehistoric Yorkshire? Come along to our hands-on exhibition and find out! Chat to our archaeologists and explore Stone Age finds rediscovered from North Yorkshire. Learn about how these finds - including some mysterious animal skulls - can tell us about the past. Finally, see how the site might have looked 11,000 years ago, rebuilt by archaeologists today!
Seeing is Believing: Build a DIY microscope!
Biology is the study of the life you see around you. Yet many of life's tiny building blocks aren't visible to the naked eye! To discover biology on the microscopic scale, scientists have made special tools - and now you can too! Join our Biophysicists to build a DIY microscope and investigate a biological sample! The hidden world of Biology awaits ...
Synthesise!
Join audio engineers to find out about music technology. Come along and get hands-on playing with synthesisers, creating your own electronic music and discovering the science and engineering behind top tunes like the Doctor Who theme.
Violence, Justice and Peacemaking in the Early Modern Republic of Venice: A gamebook
Make your way through 17th-century Venice with our interactive stories! Every choice you make decides what happens next in the gamebook. Experience how violence, justice and peacemaking would have worked back then. Don't miss the fascinating factsheets in each story!
What's in the Air We Breathe?
How clean will the air be inside the buildings of the future? What is the air quality inside our homes and offices today? Come along and try out our live instruments for indoor air pollution monitoring! We have activities and displays for all ages, plus researchers to answer questions!
Image credit: © Alex Holland
Partners