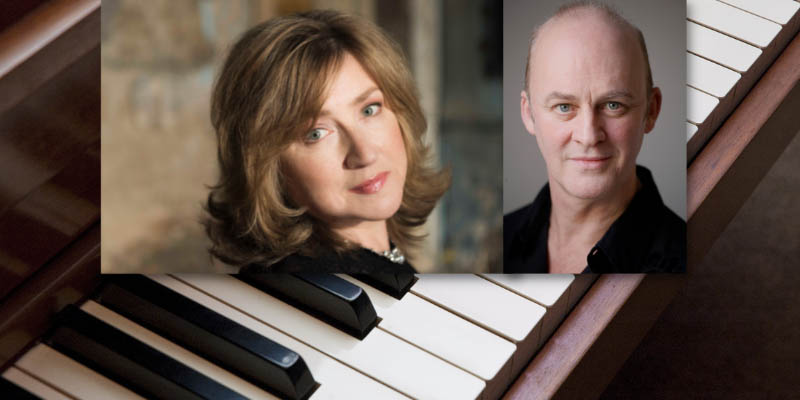 Elégie - Rachmaninoff, A Heart in Exile Lucy Parham and Tim McInnerny
Performance
This event has now finished.
Date and time:

Thursday 15 June 2023, 7pm to 8.20pm

Location:

In-person only
Sir Jack Lyons Concert Hall, Campus West, University of York (Map)

Admission:

Free admission, booking required
Event details
Celebrating the 150th anniversary of the birth of Rachmaninoff
Elégie chronicles the life of composer and pianist Sergei Rachmaninoff.
The narrative, scripted from letters and diaries, follows Rachmaninoff from his youth in Russia, through his subsequent self-imposed exile in 1917 and, finally, to California, USA, where he died in 1943.
The concert includes many of his best-loved works for solo piano, including a selection of Preludes, Etudes-Tableaux and Moments Musicaux, some of his own transcriptions and the haunting Elégie, as well as works by Scriabin and Tchaikovsky.
Known internationally for her 'Composer Portraits' in words and music, pianist Lucy Parham is presenting Elégie in 2023 with acclaimed actor Tim McInnerny as narrator to celebrate the 150th anniversary of the birth of Rachmaninoff.
A powerful performance not to be missed!
"This is the crowning glory of Parham's Composer Portrait series"
***** 5 stars
Pianist Magazine - October 2018
Lucy Parham - piano
Tim McInnerny - narrator
Scripted by Lucy Parham
Find out more about Elégie and Lucy Parham's 'Composer Portraits' series
Image credit: Lucy Parham portrait © Sven Arnstein
This event is supported by Lorna and David Foster.
About the performers
Lucy Parham is acknowledged as one of Britain's finest pianists. She applies her sensitivity and imagination not only to concertos and recitals, but also to portraits in words and music of composers such as Schumann, Chopin, Liszt, Debussy and Rachmaninoff.
Lucy has made numerous recordings including Gershwin's Rhapsody in Blue (RPO/EMI Gold), concertos by Ravel, Fauré and Franck (RPO Records) and two solo Schumann CDs (ASV). Her CD of Clara and Robert Schumann Concertos (BBC CO/Sanctuary) won the BBC Music Magazine 'Critics' Choice of the Year'.
Lucy first came to public attention as the Piano Winner of the 1984 BBC Young Musician of the Year. Since her Royal Festival Hall concerto debut at the age of 16, she has played throughout the UK as concerto soloist with most of the major British orchestras and is a frequent recitalist at the Wigmore Hall. She has also toured the USA with the BBC Concert Orchestra on their 50th anniversary, as well as Mexico and Turkey with Royal Philharmonic Orchestra, with whom she has now given over 60 performances. Abroad, she has toured with the Russian State Symphony, Sofia Philharmonic, Bergen Philharmonic, Polish National Radio SO and L'Orchestre National de Lille.
Connect with Lucy online:
Tim McInnerny is an English actor. He is known for his many roles on stage and television. Tim's extensive theatre work includes starring roles at the National Theatre, the Royal Shakespeare Company and in London's West End. He played Iago in Othello at Shakespeare's Globe and Frank 'N' Furter in The Rocky Horror Show at The Piccadilly Theatre. He starred in What The Butler Saw at the Vaudeville Theatre and in Scenes From An Execution at The National Theatre.
His TV work includes Blackadder; Edge Of Darkness; A Very British Coup; Gunpowder, Treason and Plot; The Devil's Whore; and The Abominable Bride - (a Christmas Special of Sherlock). He starred in the award-winning dramas National Treasure for Channel 4 and The Line Of Beauty for BBC, and as Lord Robett Glover in Game of Thrones. He also starred in The Windermere Children and The Trial Of Christine Keeler for the BBC and Gangs Of London for Sky.
His film work includes Wetherby; Eric The Viking; Richard 111; 101 Dalmations; Fairy Tale: A True Story; Notting Hill; Rogue Trader; 102 Dalmations; The Emperor's New Clothes; Casanova; Severance; Save Angel Hope; Black Death; Johnny English Reborn; Automata; Spooks -The Greater Good; Eddie The Eagle; Race; The Comedians Guide To Survival; The Hippopotamus; Sometimes, Always, Never; Peterloo; Killers Anonymous; The Aeronauts, and Stromboli.
Tim also starred in the award-winning drama The Serpent for the BBC. To great acclaim he played Simon Gould in the Amazon Prime series Ten Percent. He has been filming the series One Day for Netflix and Mrs Davis for Warner Bros TV.
Partners