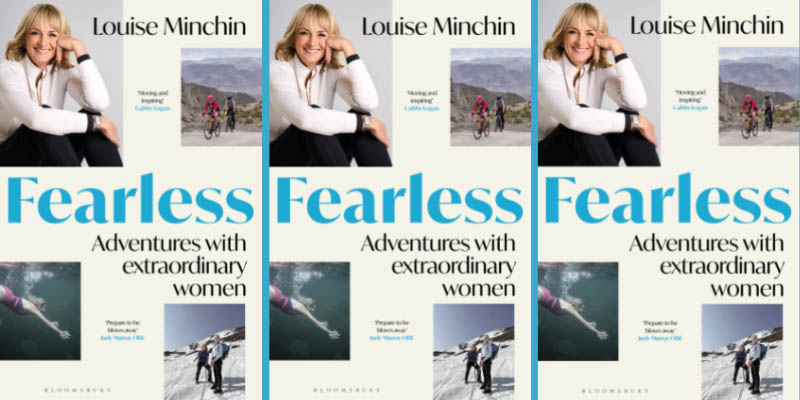 Fearless: Adventures with extraordinary women Louise Minchin
Talk
This event has now finished.
Date and time:

Sunday 4 June 2023, 7.30pm to 8.30pm

Location:

In-person only
Tempest Anderson Hall, Museum Gardens (Map)

Admission:

Free admission, booking required
Event details
Join us for a celebration of adventurous, brave, courageous women who are doing extraordinary things through sport, exercise and a love of the great outdoors.
Louise Minchin went from presenting BBC Breakfast to competing for the GB Team in Triathlon in World and European Championships, a journey she charted in her first book Dare to Tri.
In this exciting talk, Louise will share all about how she set out to push herself even further, alongside trailblazing women who are breaking down barriers, smashing records and challenging stereotypes.
From free-diving under the ice in the dark in Finland with the first female to swim a mile in the Antarctic Circle, to cycling across Argentina with one of the world's most famous female endurance runners - find out how Louise formed close bonds with incredible women whose motivation, resilience and determination have led them to accomplish unbelievable feats.
Louise will reveal the highs and lows of her journey, including those moments when she feared for her life, leaving you empowered, touched and inspired, and - most of all - moved by the power of the female spirit.
Book sales
You can buy copies of many of our speakers' books from Fox Lane Books, a local independent bookseller and Festival partner. In some cases, author signed bookplates are available too.
Image credit: Louise Minchin portrait © Rachel Joseph
About the speaker
Louise Minchin is a much-loved TV presenter, journalist, author and athlete. She presented the UK's most successful morning television programme BBC Breakfast for two decades. She is the host of the top- rated podcasts Push Your Peak and Her Spirit. Louise is Chair of the 2023 judging panel for the prestigious The Women's Prize for Fiction. Throughout her career, she has used her profile and voice to champion women's stories and to push for change raising awareness of the menopause, mental health, women's safety, and more. A lover of adventure herself, at the age of 45, Louise was inspired to take up triathlon after a BBC Breakfast challenge. Three years later she represented her age group in the World and European Championships.
Connect with Louise online:
Partners