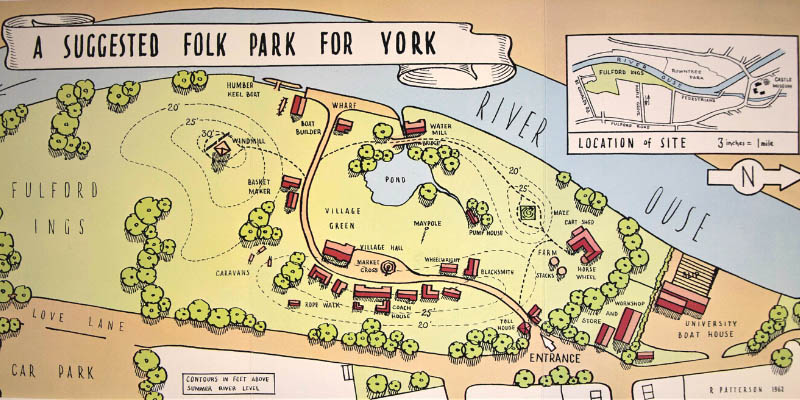 To See Life as Our Ancestors Lived It: Imagining a Folk Park for York Sally-Anne Shearn
Talk
This event has now finished.
Date and time:

Wednesday 7 June 2023, 1pm to 2pm

Location:

Online only

Admission:

Free admission, booking required
Event details
When one of York's greatest benefactors, John Bowes Morrell (1873-1963), proposed a Folk Park for the Heslington Hall estate in York, he wanted to preserve the evidence of rural communities and their way of life, and to use this 'living museum' to educate future generations.
Although Morrell's plan ultimately failed, his idea was different to anything offered in Yorkshire at the time. It was a deliberate move away from traditional museum displays and the preservation of grand homes and castles - an attempt to recapture the lives of ordinary men and women, so that visitors could 'see life as our ancestors lived it'.
Join Sally-Anne Shearn, Collections Information Archivist at the Borthwick Institute for Archives, as she draws on newly catalogued material from the Joseph Rowntree Reform Trust Archive to explain the history of the Folk Park. Using correspondence, plans, illustrations and press cuttings to reconstruct the lost park, Sally-Anne will explore Morrell's motivation for the project and how the plans were developed over more than 20 years.
Come along to learn about the Folk Park, Morrell's imaginative way of preserving and presenting history.
This event will take place live on Zoom Webinar. You will receive a link to join a couple of days before the event and a reminder an hour before. During the event, you can ask questions via a Q&A function, but audience cameras and microphones will remain muted throughout.
Image credit: © Borthwick Institute for Archives
About the speaker
Sally-Anne Shearn is Collections Information Archivist at the Borthwick Institute for Archives, with additional responsibility for their volunteering programme. She joined the Borthwick in March 2014 as a Searchroom Assistant, having recently completed her Archive and Records Management diploma at the University of Dundee. Prior to moving to York, Sally-Anne volunteered at Wiltshire Museum, Wiltshire and Swindon History Centre, the Science Museum Library and Archive, and Caernarfon Record Office.
Partners