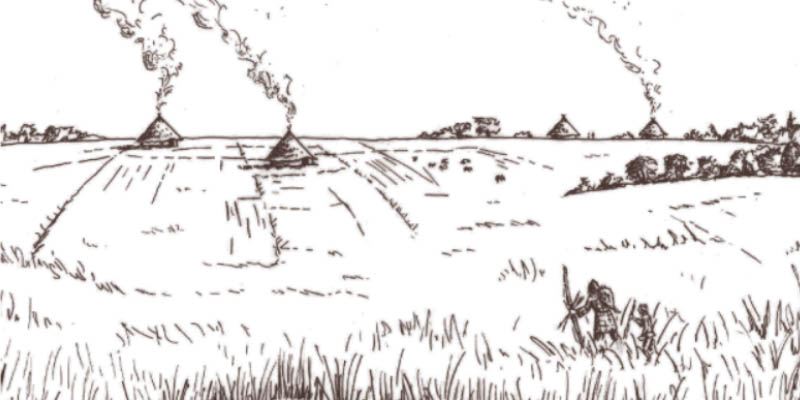 Food and Farming in Early Heslington
Demonstration
Exhibition
Panel discussion
Talk
Date and time:

Saturday 10 June 2023, 10am to 4pm

Location:

In-person only
St Oswald's Church, Fulford (Map)

Admission:

Entrance £5 (optional lunch £5) - pay at the door, booking required
Event details
Join us for a day of interdisciplinary events focusing on the changing ways in which humans have engaged with landscapes in and around Heslington from the pre-Roman period onwards.
What do we know of the people who initially just visited, but then inhabited these landscapes? How did they live? What did they eat? How did they raise their livestock? What crops did they grow? Where did they get their water from?
Using the major landscape project at Heslington East as a foundation, expert speakers from commercial, academic and community archaeology will use various types of evidence to explore the production, processing and consumption of food in the prehistoric, Roman and early medieval periods in this area and beyond.
Discover the continuities and variations in agricultural practices over time, and learn about their wider social implications in order to better understand the emergence of what is Heslington today.
Exhibition and sour dough bread-making demonstration
Over lunch there will be an opportunity to look at an exhibition showing an array of medieval illustrations of farming through the year with reference to the manor court accounts for Fulford. There will also be a demonstration of the stages involved in making sour-dough bread with loaves available for purchase.
Registration opens at 9.30am for a 10am start.
Payment is at the door, but it is necessary to book in advance by emailing ffhyork.localhistory@gmail.com or texting/calling 07914 426744. Lunch can be booked for an additional £5 per person.
Image credit: © Ed Clark
The Fishergate, Fulford and Heslington Local History Society (FFH)
Fishergate, Fulford and Heslington Local History Society has monthly talks and walks on a wide range of topics, including Anglian Fishergate, Fulford Shops, Heslington Village,
local nurserymen, army, glassworks, Henry VIII and the Rialto Cinema. The society has published booklets on St Oswald's old church, men named on local WW1 memorials, and notable families and their houses. The website also covers a huge range of topics.
Find out more about Fishergate, Fulford and Heslington Local History Society
About the speakers
John Oxley, Event Chair and former Principal Archaeologist for the City of York Council
Steve Roskams, Senior Lecturer in Archaeology at the University of York, who will be speaking on the prehistoric into Roman transitions at Heslington East and the cultural transitions within and beyond the Roman period
Jon Kenny, Community Archaeologist, who will focus on similar transitions in the landscape beyond Heslington
Clare Rainsford, Zooarchaeologist, who will speak on the pastoral economy: a perspective from the animal bones
Dave Helsop, Archaeological Consultant, who will discuss the agricultural economy from the perspective of querns and milling
Malin Holst, Bioarchaeologist and Lecturer at the University of York, who will speak on the people of the Heslington landscape, based on human skeletal analyses
Cecily Spall, Director of Field Archaeology Specialists, who will explore life in Heslington after the Roman period
Partners