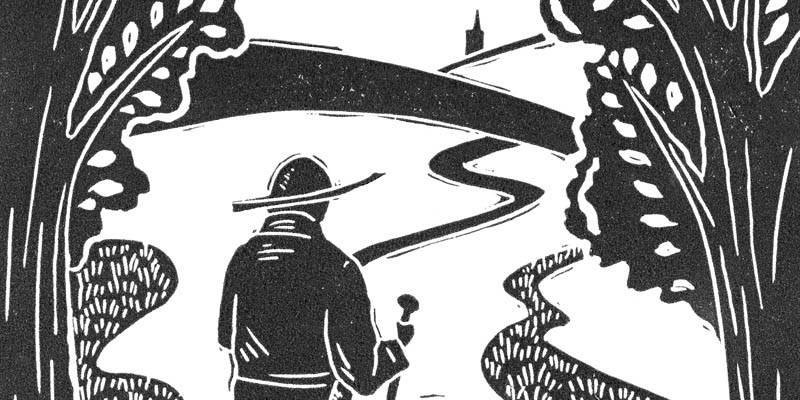 Footmarks: A journey into our restless past Jim Leary
Talk
This event has now finished.
Date and time:

Saturday 10 June 2023, 3.30pm to 4.30pm

Location:

In-person only
Ron Cooke Hub, Campus East, University of York (Map)

Admission:

Free admission, booking required
Event details
All too often we think of the past as static, 'frozen in time'. But the past was never still, as archaeologist Jim Leary of the University of York reveals in this fascinating talk based on his most recent book.
Looking back over the last three and a half million years to see how footprints lead to pathways, which in turn become roads, Jim shows how people have always been moving.
He explores the tangible remains - from fossilised footprint tracks to prehistoric wooden trackways, ridgeways, holloways, droveways, green ways, corpse roads, and Roman roads - discussing how new research methods such as isotope studies and archaeogenetics help us reconstruct the arduous journeys that people made across continents and oceans, proving that history was never motionless.
Join us for a fascinating exploration of our past that will make you look at the landscape around you with fresh eyes.
Book sales
You can buy copies of many of our speakers' books from Fox Lane Books, a local independent bookseller and Festival partner. In some cases, author signed bookplates are available too.
Image credit: © Michelle Hughes
Michelle Hughes print sale
Michelle Hughes is a Yorkshire-based printmaker and designer. She creates original linocut prints of local British landscapes and nature. Each print is hand-printed using oil-based inks in her studio. A selection of original prints and greeting cards will be on sale at this event.
Connect with Michelle:
About the speaker
Jim Leary is Senior Lecturer in the Department of Archaeology at the University of York. He joined the department in 2018, after 5 years at the University of Reading, and prior to that 15 years of professional archaeological experience - with English Heritage, and, even earlier, with a commercial archaeological unit in London. His research focuses on later prehistoric landscapes, monuments, and mobility and movement in archaeology. In 2015 Jim was a BBC/AHRC 'New Generation Thinker' finalist, and in 2018 he was nominated for Current Archaeology's 'Archaeologist of the Year' Award. He is the author of The Story of Silbury Hill, The Remembered Land: Surviving Sea-level Rise after the Last Ice Age and Footmarks: A Journey Into Our Restless Past.
Partners