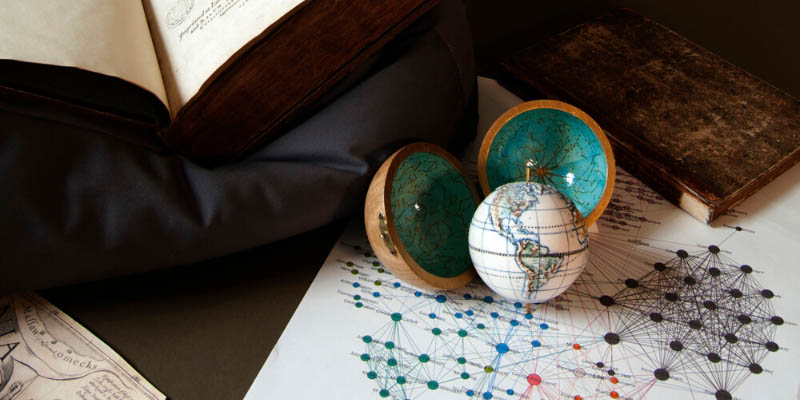 Global Travel in the Age of Shakespeare: A conversation with artist Loraine Rutt Emily Stevenson, Loraine Rutt and Lauren Working
Panel discussion
Talk
This event has now finished.
Date and time:

Sunday 11 June 2023, 2pm to 3pm

Location:

King's Manor, Exhibition Square (Map)

Admission:

Free admission, booking required
Event details
Rediscover the Renaissance!
Join Emily Stevenson and Lauren Working of the University of York's English and Related Literature department, in conversation with artist Loraine Rutt.
Hear all about their exhibition at Oxford's Bodleian Library, 'Global Networks and the Early Modern World', which demonstrates how bringing historical documents in conversation with contemporary artworks can generate new ways of imagining the past.
Explore how global travel shaped people's interests in Shakespeare's time, and discover some of the exciting archival sources that inspired Loraine's new ceramic works.
Image credit: © Loraine Rutt
Please note that there is limited wheelchair access. Email yorkfestivalofideas@york.ac.uk for information on accessibility.
As featured in BBC History Magazine (June edition)
BBC History Magazine
BBC History Magazine is Britain's biggest-selling history brand with a highly engaged and loyal audience. It brings history to life with informative, lively and entertaining features written by the world's leading historians and journalists. Whether it's the grand history of politics and institutions or the fascinating stories of our private lives through the ages, BBC History Magazine sheds new light on the past and helps us make more sense of today's world.
About the speakers
Emily Stevenson is a Lecturer in Renaissance and Early Modern Literature at the University of York. She was previously a researcher on the TIDE project (Travel, Transculturality and Identity in England, 1550-1700). As a member of the project she contributed to the publication Lives in Transit in Early Modern England: Identity and Belonging (2022), and she has also published in Renaissance Studies and the Cultural and Social History journal.
Loraine Rutt is an artist and cartographer who has been making maps from clay for over 30 years. Travel and maps have remained her primary influence, varying in scale from large architectural ceramics to porcelain miniatures. She has returned to making globes time and again, creating pocket globes for modern collectors with The Little Globe Co. She created a series of artworks based on TIDE research for the exhibition, 'From Middle Temple to Manoa', at the Middle Temple in London, and will be doing so again for the 'Global Networks' exhibition at the Bodleian Library.
Connect with Loraine on Instagram
Lauren Working is Lecturer in Renaissance Studies at the University of York. Her book, The Making of an Imperial Polity: Civility and America in the Jacobean Metropolis, explores how English colonialism influenced taste and politics in Shakespeare's London. She is a consultant for the National Portrait Gallery in London, and a BBC Radio 3 New Generation Thinker.
Partners