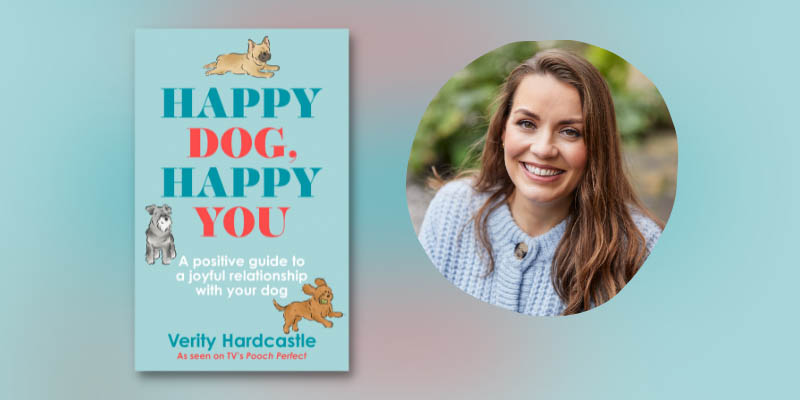 Happy Dog, Happy You Verity Hardcastle
Talk
This event has now finished.
Date and time:

Saturday 10 June 2023, 1.30pm to 2.30pm

Location:

In-person only
Ron Cooke Hub, Campus East, University of York (Map)

Admission:

Free admission, booking required
Event details
Want to raise a calm, happy and fulfilled dog?
Award-winning dog groomer, TV personality and experienced dog handler Verity Hardcastle will tell you everything you need to know in terms of dog care. From choosing a breed to practical diet and nutrition tips, and from knowing what to buy to behaviour training and exercise advice - discover how you can fill life with fun and create a joyful friendship with your dog.
With a positive focus on mindfulness and wellbeing, Verity shares her expertise as a dog handler and reiki practitioner to help encourage a calm daily routine, including mindful tips and techniques you can try at home or out on walks together. You will also discover how to communicate effectively with your dog, and learn beautiful bonding activities such as massage, meditation and 'doga' (dog yoga) to build a warm and loving environment in which you can both thrive.
Whether you're considering getting a dog or you already have one, this talk is for you!
Join Verity to find out how you can forge a lasting bond with your four-legged friend and make both your life and your pooch's happier than ever before.
Book sales
You can buy copies of many of our speakers' books from Fox Lane Books, a local independent bookseller and Festival partner. In some cases, author signed bookplates are available too.
Image credit: Verity Hardcastle portrait © Olivia Brabbs
About the speaker
Verity Hardcastle is a multi-award winning dog groomer at Championship level from Yorkshire. She has her own dog grooming business, which she set up in 2010 and which has won several business industry awards including Pet Industry Federations 'Grooming Salon of the Year'. Verity also has a side hustle in home renovation - she is never happier than when knocking down a wall or preparing a surface for painting. When she's not brandishing a paint roller, Verity can be found spoiling her three poodles Lily, Alice and Olive rotten, or secretly snuggling her cat Pebbles.
Partners