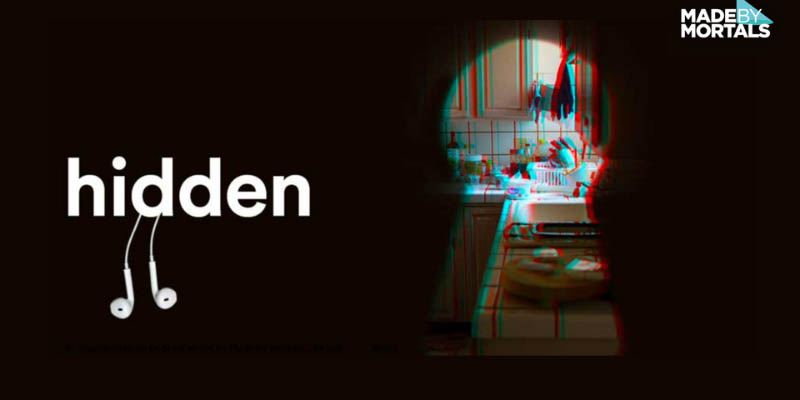 'hidden': Joanna Theano Pavlidou
Interactive activities
This event has now finished.
Date and time:

Tuesday 6 June 2023, 2pm to 7.45pm

Location:

In-person only
York Explore Library, Library Square, Museum Street (Map)

Admission:

Free admission, booking required
Event details
People with severe mental ill health experience profound health inequalities - for example, shortened life expectancy by 15-20 years due to preventable physical health problems.
Digital exclusion puts this population at risk of amplified or aggravated inequalities.
Produced by Made by Mortals in collaboration with people with lived experience of severe mental ill health, this immersive audio experience tells the story of Joanna, who uses mental health services and lacks digital skills. Put on the headphones, wear the blindfold and follow her journey as she tries to navigate a world where services and other aspects of daily life become increasingly digitised. Based on research findings and anchored in Made By Mortal's 'Theory Of Change', this experience challenges you to walk in Joanna's shoes and think how you can help.
This event works as a catalyst for considering the 'digital divide' and for rebuilding a healthcare system and a society where people who use mental health services are digitally included - for example, by offering them affordable, accessible, modern and tailored digital upskilling, providing affordable access to devices, tackling data poverty and retaining face-to-face service provision as an option. We reimagine a truly equitable digital world where no one is forgotten or left behind.
Sessions will take place from 2pm to 3.45pm, 4pm to 5.45pm and 6pm to 7.45pm. Please select a session when booking your ticket.
Made by Mortals
Made by Mortals create immersive (stuff that gets you right involved in the action) podcasts, films and musical theatre shows in collaboration with world-class professional artists, health and social care organisations and a wonderful mix of community participants.
Find out more about Made by Mortals
About the speaker
Partners