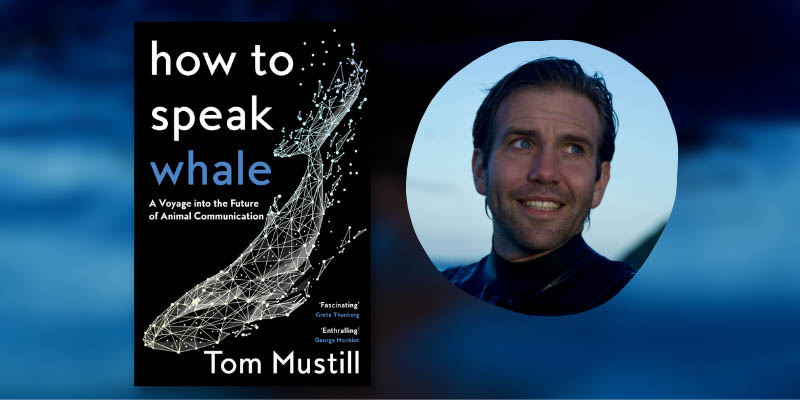 How to Speak Whale: A voyage into the future of animal communication Tom Mustill
Talk
This event has now finished.
Date and time:

Monday 5 June 2023, 6pm to 7pm

Location:

Online only

Admission:

Free admission, booking required
Event details
How close are we to communicating with another species? And how might doing so change our world?
In 2015, wildlife filmmaker Tom Mustill was whale watching when a humpback breached onto his kayak and nearly killed him. After a video clip of the event went viral, Tom became obsessed with trying to find out what the whale had been thinking and sometimes wished he could just ask it. In the process of making a film about his experience, he discovered that might not be such a crazy idea.
Hear the story of the pioneers in a new age of discovery, whose cutting-edge developments in natural science and technology are taking us to the brink of decoding animal communication - and whales, with their giant mammalian brains and sophisticated vocalisations, offer one of the most realistic opportunities for us to do so.
Using 'underwater ears', robotic fish, big data and machine intelligence, leading scientists and tech-entrepreneurs across the world are working to turn the fantasy of Dr Dolittle into a reality, upending much of what we know about these mysterious creatures.
Join us for a thrilling investigation into the pioneering world of animal communication, where big data and artificial intelligence are changing our relationship with animals forever.
This event will take place live on Zoom Webinar. You will receive a link to join a couple of days before the event and a reminder an hour before. During the event, you can ask questions via a Q&A function, but audience cameras and microphones will remain muted throughout.
Book sales
You can buy copies of many of our speakers' books from Fox Lane Books, a local independent bookseller and Festival partner. In some cases, author signed bookplates are available too.
Image credit: Tom Mustill portrait © Sam Mansfield
About the speaker
Tom Mustill is a biologist turned filmmaker and writer, specialising in stories where people and nature meet. His first book, How To Speak Whale: A Voyage into the Future of Animal Communication was published in 2022 and was selected as one of Amazon's Best Books of The Year.
Connect with Tom online:
Partners