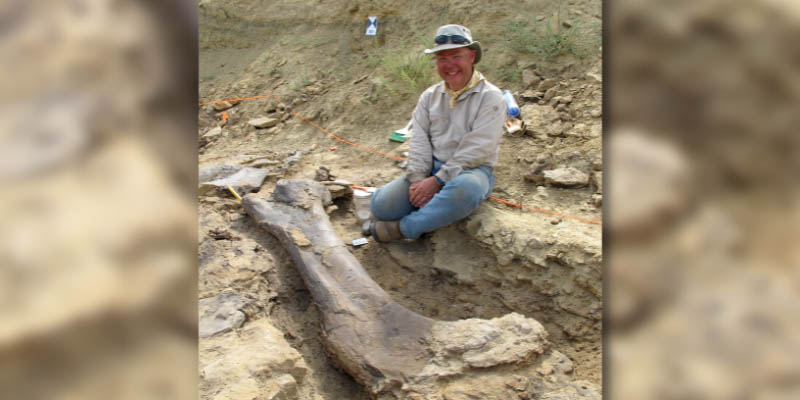 Hunting Dinosaurs in the Jurassic Phil Manning
Talk
This event has now finished.
Date and time:

Saturday 10 June 2023, 12pm to 1pm

Location:

In-person only
Ron Cooke Hub, Campus East, University of York (Map)

Admission:

Free admission, booking required
Event details
Palaeontologist Phil Manning takes you on a journey to the remote badlands of Wyoming, where he and his team have been investigating a dinosaur graveyard.
Packed with over a dozen skeletons, including predators such as the fearsome Allosaurus and iconic giants like Diplodocus, as well as fossilised plants and dinosaur footprints, the site is a treasure trove that is helping to change the way we think about the Jurassic - the golden age of dinosaurs. As Phil puts it, "If you want to open up the curtains, look back in time and say: What did the Jurassic look like? This is where you come."
Phil will share the latest spectacular finds from the Wyoming site, where he has been working since 2016, and reveal why the site is so important. He will also discuss what it was like to contribute to the recent BBC show Secrets of the Jurassic Dinosaurs, and he will talk about the field work he conducted much closer to home, in Yorkshire.
About the speaker
Phil Manning is Chair of Natural History and Director of the Interdisciplinary Centre for Ancient Life at the University of Manchester. He is a Fellow of the Explorer's Club (New York), the Geological Society (London) and the Royal Geographical Society (London). Phil has spent 30+ years working as a curator and/or museum consultant around the globe. He has researched, designed and helped build exhibitions on the evolution of life on Earth, which are often focused on dinosaurs, and he has written, presented and co-produced multiple television documentaries for National Geographic Channel, BBC, History Channel and other networks. His team continue to undertake field-based research in the Hell Creek and Morrison Formations of South Dakota, Wyoming and Montana, but his fieldwork also includes sites in South America, Europe, Asia, Africa, Australia and the UK. In 2020 he was awarded the Sorby Medal by the Yorkshire Geological Society for his distinguished research contributions to the geosciences.
Partners