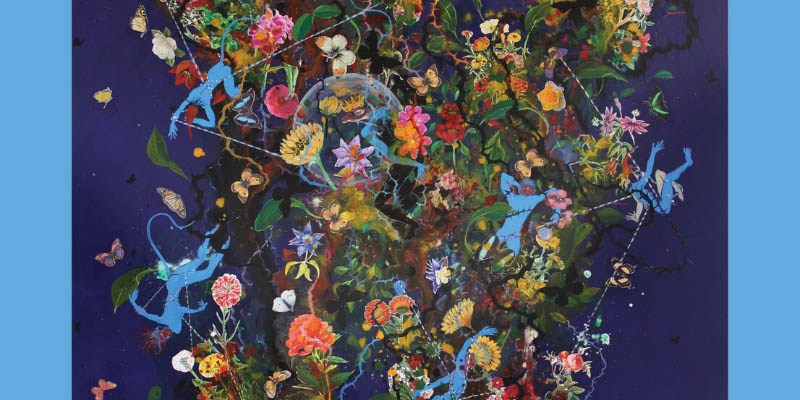 Infinite Remembering: Poetry beyond love and war Shash Trevett and Vidyan Ravinthiran in conversation with Neil Astley
Panel discussion
This event has now finished.
Date and time:

Thursday 8 June 2023, 1pm to 2pm

Location:

Online only

Admission:

Free admission, booking required
Event details
Sri Lanka has thrilled the foreign imagination as a land of infinite possibility.
Portuguese, Dutch and British colonisers envisioned an island of gems and pearls, a stopping-point on the Silk Road; tourists today are sold a vision of golden beaches and swaying palm trees, delicious food and smiling locals.
However, these views favour the south of the island over the north, and erase a history of war crimes, assassinations of activists and journalists, subjugation of minorities, and a legacy of governmental corruption that has led the country into economic and social crisis.
A sense of irreconcilability, as well as infinite possibility, haunts the place. Now three fine poets from diverse backgrounds - Vidyan Ravinthiran, Shash Trevett and Seni Seneviratne - have poured their empathy and expertise into putting together a truly astonishing anthology that allows migrational writers who do not even identify as 'Sri Lankan' to figure alongside consciously national voices.
Join our panel of literature experts, who will introduce and lead this discussion on Out of Sri Lanka, the first ever anthology of Sri Lankan and diasporic poetry, which features over 300 poems written in English, or translated from Tamil and Sinhala.
Hear excerpts read by some of the poets, and find out how this diverse collection brings to light a long-neglected national literature and reshapes our understanding of migrational poetics and the poetics of atrocity.
From explorations of critical events such as the 2004 tsunami and its aftermath to poems about love, art and nature - Out of Sri Lanka permits a rediscovery of a literature of place; reimagines the literature of place beyond the national; and rebuilds via the forceful hope of imagination, whatever shocks may continue to occur in this geo-politically intriguing location.
This event is facilitated by Anthony Vahni Capildeo FRSL, Writer in Residence at the University of York.
This event will take place live on Zoom Webinar. You will receive a link to join a couple of days before the event and a reminder an hour before. During the event, you can ask questions via a Q&A function, but audience cameras and microphones will remain muted throughout.
About the speakers
Shash Trevett is a poet and a translator of Tamil poetry into English. Her poetry has appeared in journals and anthologies (including POETRY, Poetry London, Modern Poetry in Translation and The North), she has read widely across the UK and is a winner of a Northern Writers' Award. Her pamphlet From a Borrowed Land was published in May 2021 (Smith|Doorstop) and she is currently working on her first collection, which will also be published by Smith|Doorstop. She has co-edited (with Vidyan Ravinthiran and Seni Seneviratne) Out of Sri Lanka: Tamil, Sinhala and English Poetry from Sri Lanka and its Diasporas (Bloodaxe 2023). Shash has been on judging panels for the PEN Translates awards and the London Book Fair, and was a Visible Communities Translator in Residence at the National Centre for Writing. Shash is a Ledbury Critic, reviewing for PN Review and the Poetry Book Society, and is a Board Member of Modern Poetry in Translation.
Vidyan Ravinthiran was born in Leeds, to Sri Lankan Tamils. His first book of poems, Grun-tu-molani (2014), was shortlisted for the Forward Prize for Best First Collection, the Seamus Heaney Centre Poetry Prize and the Michael Murphy Memorial Prize. His second, The Million-petalled Flower of Being Here (2019) won a Northern Writers' Award and a Poetry Book Society Recommendation. It was shortlisted for the 2019 Forward Prize for Best Collection, the 2019 T.S. Eliot Prize and the 2021 Ledbury Munthe Poetry Prize for Second Collections. After teaching at the universities of Cambridge, Durham and Birmingham in the UK, he is now Associate Professor in English at Harvard University. He is the author of Elizabeth Bishop's Prosaic (2015), winner of both the University English Prize and the Warren-Brooks Award for Outstanding Literary Criticism.
Neil Astley is editor of Bloodaxe Books, which he founded in 1978. His books include novels, poetry collections and anthologies, most notably those in Bloodaxe's Staying Alive anthology series: Staying Alive (2002), Being Alive (2004), Being Human (2011), and Staying Human (2020), a Poetry Book Society Special Commendation. He received an Eric Gregory Award for his poetry, was given a D.Litt from Newcastle University for his work with Bloodaxe Books, and, in 2018, was made an Honorary Fellow of the Royal Society of Literature. He lives in Northumberland.
Partners