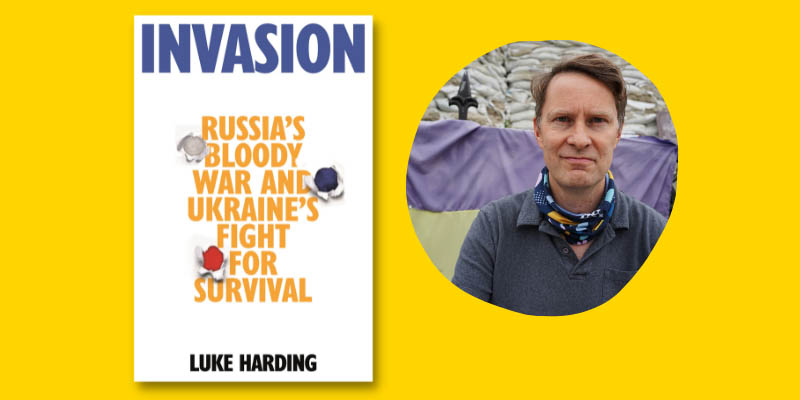 Invasion: Russia's bloody war and Ukraine's fight for survival Luke Harding
Talk
This event has now finished.
Date and time:

Wednesday 7 June 2023, 6pm to 7pm

Location:

Online only

Admission:

Free admission, booking required
Event details
For months, the omens had pointed in one scarcely believable direction: Russia was about to invade Ukraine. And yet, the world was stunned by the epochal scale of the assault that began in February 2022. It was an attempt by one nation to devour another.
In this insightful talk, award-winning Guardian journalist Luke Harding discusses the war that changed everything, confronting the crucial question: which side will prevail?
Find out about Luke's experience reporting on the ground during the build-up to the conflict and afterwards; hear about the initial days of shock and panic, the grim reality of this ongoing war and the unheard stories behind the headlines; and learn about the war's two most important personalities, Volodymyr Zelenskiy and Vladimir Putin.
With the ripple effects of the largest armed conflict in Europe since 1945 already being felt beyond Ukraine and Russia's borders, it is more vital than ever to understand how the situation on the front line will have profound effects for us all.
This event will take place live on Zoom Webinar. You will receive a link to join a couple of days before the event and a reminder an hour before. During the event, you can ask questions via a Q&A function, but audience cameras and microphones will remain muted throughout.
Book sales
You can buy copies of many of our speakers' books from Fox Lane Books, a local independent bookseller and Festival partner. In some cases, author signed bookplates are available too.
Image credit: Luke Harding portrait © Luke Harding
About the speaker
Luke Harding is an award-winning foreign correspondent with the Guardian. He has reported from Delhi, Berlin and Moscow, and has also covered wars in Afghanistan and Iraq, Libya and Syria. Between 2007 and 2011 he was the Guardian's Moscow bureau chief. The Kremlin expelled him from the country in the first case of its kind since the cold war and, in summer 2022, put him on an official blacklist. He is the author of Mafia State and co-author of WikiLeaks: Inside Julian Assange's War on Secrecy, The Liar: The Fall of Jonathan Aitken (nominated for the Orwell Prize) and The Snowden Files. Two of Harding's books have been made into films, The Fifth Estate and Snowden.
Partners