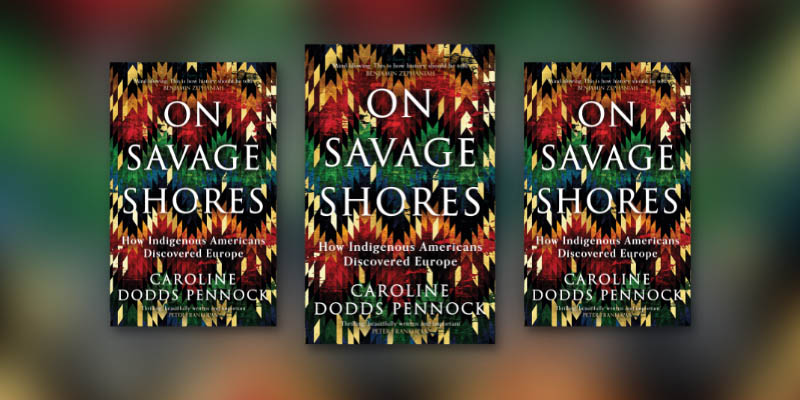 On Savage Shores: How Indigenous Americans discovered Europe Caroline Dodds Pennock
Talk
This event has now finished.
Date and time:

Sunday 11 June 2023, 2pm to 3pm

Location:

In-person only
Ron Cooke Hub, Campus East, University of York (Map)

Admission:

Free admission, booking required
Event details
We have long been taught to presume that modern global history began when the 'Old World' encountered the 'New', when Christopher Columbus 'discovered' America in 1492.
But the reverse was true for tens of thousands of Aztecs, Maya, Totonacs, Inuit and others - enslaved people, diplomats, explorers, servants, traders: they discovered Europe.
Join historian and writer Caroline Dodds Pennock to find out what 'discovering Europe' meant for these Indigenous Americans.
This is the story of a people who were rendered exotic, demeaned and marginalised, but whose worldviews and cultures had a profound impact on European civilisation.
Book sales
You can buy copies of many of our speakers' books from Fox Lane Books, a local independent bookseller and Festival partner. In some cases, author signed bookplates are available too.
About the speaker
Caroline Dodds Pennock is a Senior Lecturer in International History at the University of Sheffield and the UK's only Aztec historian. Her first book, Bonds of Blood: Gender, Lifecycle and Sacrifice in Aztec Culture won the Royal Historical Society's Gladstone Prize for 2008. She has appeared on TV programmes for broadcasters including the BBC, the Smithsonian Channel and Netflix, and has acted as a named historical consultant for several TV projects. She has also written for popular publications including Scientific American, BBC History Magazine, BBC World Histories, BBC Knowledge Magazine and History Today.
Partners