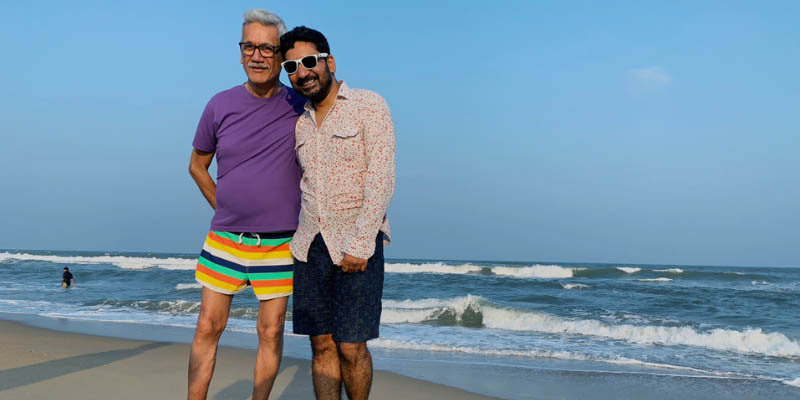 Photography in Yorkshire in the 1990s: In conversation with Sunil Gupta Sunil Gupta and Theo Gordon
Talk
This event has now finished.
Date and time:

Thursday 15 June 2023, 6.30pm to 7.30pm

Location:

In-person only
Hungate Reading Cafe (Map)

Admission:

Free admission, booking required
Event details
Join University of York art historian Theo Gordon in conversation with photographer Sunil Gupta, whose work helps to historicise recent interest in decolonisation and queer representation.
In recent years, Sunil Gupta has received belated public acclaim in the UK for his photography practice and activism. Born in India in 1953, Sunil migrated with his parents to Canada in 1969, and has been based in London since 1978, returning to Delhi from 2005-2013.
Sunil's work has continually pushed the boundaries of representation in photography, centring queer and postcolonial experiences.
This conversation will focus on a particular strand of his practice: his work in Yorkshire in the early 1990s, where he was engaged in debates around decolonial politics at the 'Trophies of Empire' exhibition in Hull in 1992, and curated the queer group exhibition 'Ecstatic Antibodies'.
He will also discuss his recent book, We Were Here: Photography, Sexuality and Cultural Difference: Selected Essays by Sunil Gupta (Aperture, 2022), which his in-conversation partner Theo edited.
By focusing on Sunil's work in Yorkshire, this event aims to rediscover both a neglected Northern strand of his practice and of the history of photography in the county. It also recontextualises and reimagines contemporary debates on decolonisation in art and culture in the long history of postcolonial politics in the UK.
Join us to find out more about Sunil's work and how issues of decolonisation have been ascendent at several moments in the UK since the 1970s.
About the speakers
Sunil Gupta is an Indian-born Canadian photographer, based in London. He moved to Canada as a teenager in the late 1960s, studying a Bachelor of Commerce at Concordia University, Montreal, before moving to New York and enrolling in a photography course at the New School, NY, USA (1976). He went on to receive a Diploma from West Surrey College of Art and Design, Farnham, Surrey, UK (1981); an MA from Royal College of Art, London, UK (1983); and a PhD from the University of Westminster, London, UK (2019) with a thesis titled 'Queer Migrations'. Sunil lives and works in London.
Theo Gordon is a historian of modern and contemporary art, specialising in HIV/AIDS, and queer and postcolonial practices across diverse media. He has a BA in English from University College London, and an MA and PhD from The Courtauld Institute of Art. He has held teaching positions and postdoctoral fellowships at the University of Sussex, The Courtauld, Birkbeck College and the Smithsonian American Art Museum in Washington D.C. At York he is working on a Leverhulme Early Career Fellowship.
Partners