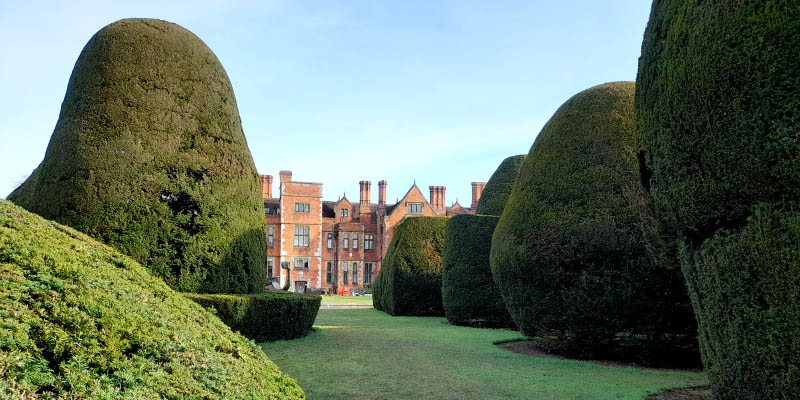 A Pilgrimage of Sound Chantal Berry and Laura Denning
Tour
Date and time:

Sunday 4 June 2023, 10am to 12pm

Location:

In-person only
Heslington Hall, Campus West, University of York (Map)

Admission:

Free admission, booking required
Event details
Join us for an evocative soundwalk through the acoustic world of 16th-century York that will enable you to immerse yourself in our city's rich heritage.
As we walk and listen, find out what it is like to connect with soundscapes from the present and the past. This soundwalk is inspired by pilgrimage, as we will focus upon journeying through the natural world as part of our connection with heritage. The pilgrimage will end at York Minster, a spectacular example of the influence of nature upon York's spiritual and architectural history.
This soundwalk draws upon a year-long collaboration between University of York PhD student Chantal Berry and Laura Denning, artist in residence at the university's Leverhulme Centre for Anthropocene Biodiversity.
Meeting point: Heslington Hall (main entrance), University of York
Image credit: © Chantal Berry
Produced as part of a year long residency at Leverhulme Centre for Anthropocene Biodiversity, University of York. Working with PhD student Chantal Berry, and Blind and visually impaired participants from MySight York, this Sound Piece aims to evoke the city during the Medieval period, whilst exploring the concept of Cathedral as Forest and Forest as Cathedral.
About the speakers
Chantal Berry is a PhD student at the University of York's Leverhulme Centre for Anthropocene Biodiversity and also works as a Graduate Teaching Assistant at the university's Department of History. Her research focuses on acoustic ecology, or the sounds and rhythms of human-nature relationships, between c.1500-c.1700, and how changes in human activity have altered natural soundscapes and consequent human perceptions of the natural world. Chantal has previously studied at the University of Leeds School of Music, where she specialised in electro-acoustic composition, engaging with artistic approaches to convey philosophical ideas about nature. It was during her MA studies at the University of York that her interest in acoustic ecology developed from explorations of modern sound to historical sound.
Laura Denning is artist in residence at the University of York's Leverhulme Centre for Anthropocene Biodiversity. She is a transdisciplinary artist working across film, sound, social participation and installation to foreground the environmental and ecological focus of her art practice. Most of her work aims to reveal novel insights that can contest familiar ways of thinking about people, place and sensation. Laura has been collaborating with Chantal, using braille as a tactile device for triggering sonic works which bring historical habitats alive, with the purpose of understanding the rich eco-acoustic environmental history which we have lost and evoking greater emotional investment in biodiversity gain.
Both Chantal and Laura are currently supported by a Leverhulme Trust Research Centre - the Leverhulme Centre for Anthropocene Biodiversity.
Partners