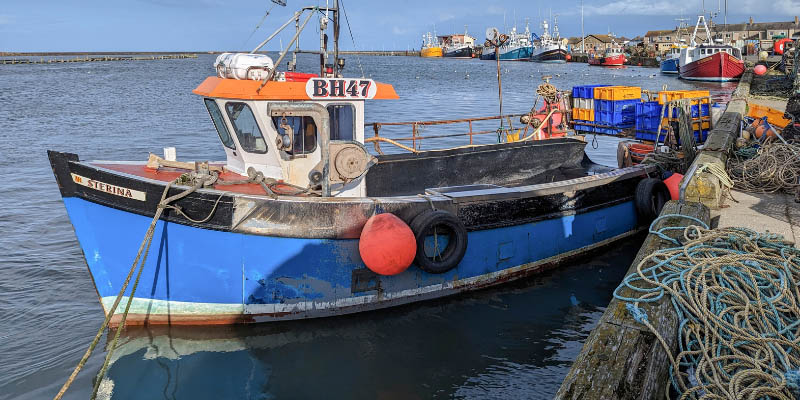 Pyramids of Life: Improving the health of oceans Jean-Luc Solandt, Jon Pitchford - chaired by Bryce Stewart
Panel discussion
This event has now finished.
Date and time:

Sunday 11 June 2023, 10.30am to 11.30am

Location:

In-person only
Ron Cooke Hub, Campus East, University of York (Map)

Admission:

Free admission, booking required
Event details
Our planet's natural resources face unsustainable demands, and there is evidence that current management approaches are failing to move resource use towards a sustainable future. This failure is particularly acute in marine ecosystems, where about 95% of fisheries are fully or over-exploited.
Join our panel of experts to hear all about the groundbreaking 'Pyramids of Life' project that seeks to better understand how we can work sustainably to manage our oceans, and how a change in fishing and consumer behaviour could improve stocks and promote biodiversity.
Find out how the team is re-imagining the fishing industry to be more in balance with natural marine ecosystems, and how consumers' rediscovery of a taste for undervalued species could help rebuild and safeguard the health of our oceans and fishing communities.
Image credit: © Richard Poyer
About the speakers
Jean-Luc Solandt is Principal Specialist in Marine Protected Areas at the Marine Conservation Society. He provides technical and policy advice on all matters to do with UK and overseas Marine Protected Areas (MPAs), including on designation (where MPAs are and why), and the management that MPAs get. He is also involved in scientific surveys of sites, and law associated with protection for sites.
Jon Pitchford is Professor at the University of York's Department of Mathematics, where he also runs the PhD programme.
Bryce Stewart (chair) is Senior Lecturer at the University of York's Department of Environment and Geography. He is a marine ecologist and fisheries biologist whose work has ranged from temperate estuaries to tropical coral reefs and the deep-sea. The central thread in his research has been to gain an increased understanding of the factors regulating marine populations and communities so as to ensure their sustainable utilisation. His work on deep-sea fishes was among the first to demonstrate their extreme longevity, and on coral reefs he provided new evidence for mechanisms of community regulation of prey fish by predators. More recently his focus has been on how to improve the management of fisheries through the use of predictive recruitment models, marine protected areas and stock enhancement. Bryce also actively promotes sustainability within the seafood industry by working with everyone from government ministers to fishermen, restaurants and supermarket chains. Since 2016 he has been particularly involved with assessing the effects of Brexit on UK fisheries and the marine environment, and helping to plan for future reform of management by working with a wide range of stakeholders and the Government.
Partners