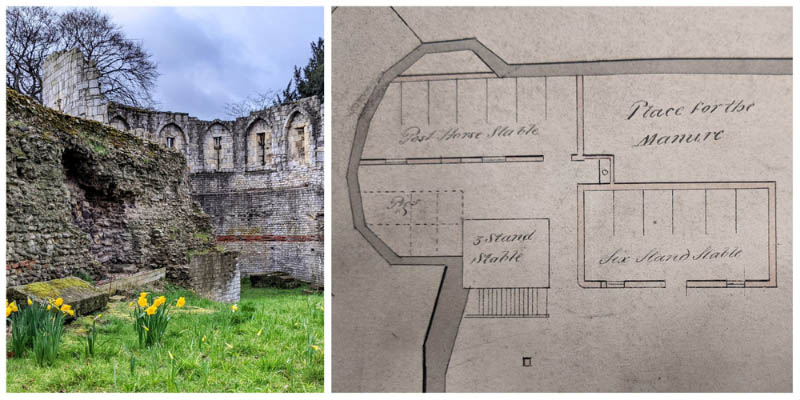 Rediscovering York's Mint Yard Peter Hogarth
Talk
This event has now finished.
Date and time:

Thursday 8 June 2023, 6pm to 7.30pm

Location:

In-person only
York Explore Library, Library Square, Museum Street (Map)

Admission:

Free admission, booking required
Event details
While volunteering for York Explore Archives in 2019, local historian Peter Hogarth shared in the discovery of a captivating plan dating from around 1805. That plan was of the Mint Yard, and its rediscovery inspired Peter to delve deeper into the city's archives to find out more about the history of this often-overlooked area of York.
For three centuries, York's Mint Yard - located between the Multangular Tower and Petergate - had a unique place in the life of the city. Monastic origins and status as a Liberty - an enclave within the city not wholly under civic jurisdiction - combined to shape its history. The Mint Yard housed sculptors, wine merchants, combmakers, poor gentlewomen, a theatre and sufficient horses to maintain York's vital stagecoaches.
Join us to discover the fascinating history of this slice of York. You will also have the chance to view the original plan that inspired Peter's research!
This is a free event, but donations are welcome. Any money raised will go towards the conservation of the Mint Yard plan.
Explore York Libraries and Archives
Explore York Libraries and Archives run 15 libraries across the city including York Explore, their flagship library and home of the City Archive.
Connect with Explore York Archives online:
Explore York Libraries and Archives Instagram
Explore York Libraries and Archives Facebook
About the speaker
Peter Hogarth had a long career as a Biology Lecturer at the University of York. When he retired, he found time to pursue other interests, historical research among them. His journey to the Mint Yard has been via research on the Museum Gardens, traffic problems in Regency York and body snatching - and, of course, through the York City Archives.
Partners