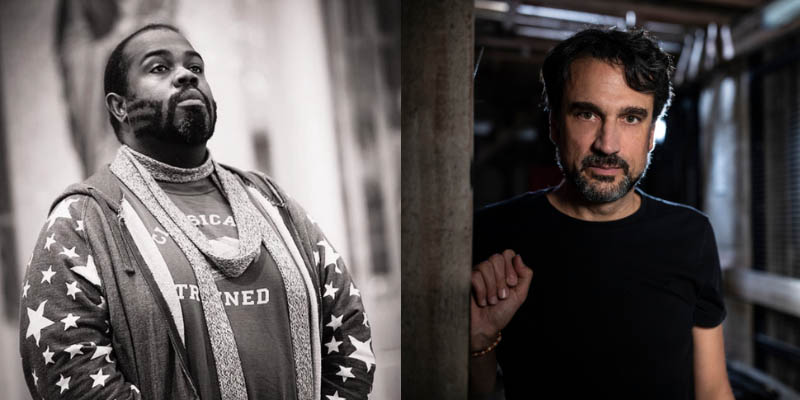 Reginald Mobley and Baptiste Trotignon
Performance
Talk
This event has now finished.
Date and time:

Tuesday 13 June 2023, 7.30pm to 9.30pm

Location:

In-person only
National Centre for Early Music, Walmgate (Map)

Admission:

£22 (£20 concessions, £6 u-35), booking required
Event details
Just as Bach, Beethoven and Mozart were settling the backbone of Western European musical canon, across the Atlantic, in the American Colonies, slave songs and Negro spirituals were born from the pain and tribulations of African people deprived of fundamental rights.
Largely inspired by Old Testament stories of the Israelites' flight from Egypt, the songs express grief and sorrow but also joy and desire for freedom. A true hymn to resilience and a symbol of hope and faith in humanity, these spirituals have influenced most of modern popular music, whether it is ragtime, barbershop, jazz, gospel, blues, rock, techno and even forms of electronic music.
To grant the genre its true place in music history and thus honour its original interpreters, American countertenor Reginald Mobley has joined forces with French jazz pianist Baptiste Trotignon in this unique collaboration to offer a newly curated programme of songs written by black composers such as HT Burleigh, Florence Price and J Rosamond Johnson, alongside their own improvisational arrangements on original texts.
Join us for an unforgettable evening of powerful and beautiful spirituals!
This concert will be preceded by an illustrated talk (free of charge for ticket holders):
The Spirituals: Resonant Codes, Sacred and Secular
Matthew Williams, University of York
6.30pm to 7pm (free for ticket holders)
For over 150 years, African American spirituals have been a source of deep inspiration for many people, and in February 2007, the U.S. Congress passed a bill naming the spirituals a 'National Treasure'. Born out of a 400-year struggle for freedom, they remind us of the profound dignity of human life. Saturated with ancient biblical texts about liberation, the spirituals often fuse secular concerns with transcendent ones. This lively blend of temporal and eternal interests is at the core of an ongoing conviction that the liberation of body, mind and soul is critical for human flourishing. From the civil rights movement of the 1960s to sporting events around the world, the melodies and rhythms of these songs echo in the public consciousness. Spirituals have especially resonated with marginalised communities; they remain a unifying anthem of hope for all who connect with the profundity of their expressive power. Join University of York musicologist Matthew Williams as he discusses how, in a secular, post-modern west, the spirituals invite us to reflect on the utility of continuing to infuse notions of the sacred in everyday life.
National Centre for Early Music
The National Centre for Early Music (NCEM) is the national advocate of early music in England and a centre of excellence for music-making in the City of York. The NCEM hosts three festivals of early music in Yorkshire as well as a year-round programme of folk, jazz, early music and world music concerts supported by a significant creative learning programme. The NCEM boasts an enviable reputation for blending artistic quality, administrative excellence and creative diversity.
Connect with the NCEM online:
About the performers
Reginald Mobley is a GRAMMY-nominated American countertenor who is globally renowned for his interpretation of the baroque, classical and modern repertoire. An advocate for diversity in music and its programming, Reginald became the first ever programming consultant for the Handel & Haydn Society following several years of leading H&H in his community engaging Every Voice concerts. He also holds the position of Visiting Artist for Diversity Outreach with the Baroque ensemble Apollo's Fire, and is a regular guest with Philharmonia Baroque Orchestra, Washington Bach Consort, Seraphic Fire and Agave Baroque. With the latter, Reginald recorded 'American Originals', a collection of Spirituals, which granted his nomination to the GRAMMY Awards in 2022.
Baptiste Trotignon is a renowned French jazz pianist and composer. He began playing the piano at the age of six, and discovered and taught himself jazz and improvisation as a teenager. He has won many awards, including the prestigious Echo Jazz award.
Partners