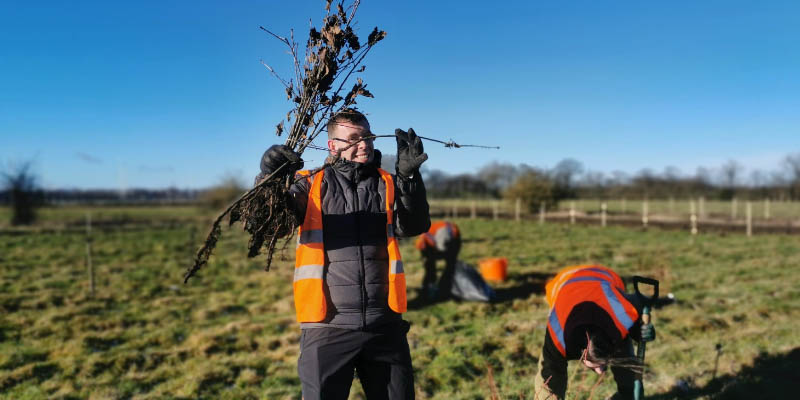 Reimagining Cities: Regeneration and social enterprise
Panel discussion
Date and time:

Thursday 15 June 2023, 12.30pm to 4.45pm

Location:

In-person only
St Saviourgate York (Map)

Admission:

Free admission, booking required
Event details
The idea that economic growth will trickle down to the poor and most disadvantaged among us has been proven to be fundamentally flawed.
Join our panels as we explore the need for a different approach to urban regeneration through inclusive growth and by harnessing the power of major employer institutions, education providers and social enterprise to deliver more equitable and inclusive economic outcomes for everyone.
Social enterprise is undoubtedly playing a significant role in delivering inspirational community-based entrepreneurship, but the sector is not yet well understood and has so far been largely overlooked in the national discourse on how to achieve levelling up.
What are the opportunities for York to build on its strengths and become a magnet city for investment, levelling up and net zero? What challenges and opportunities might we see as a result of digitalisation, globalisation and demographic shifts? How can we build the skills of our future workforce to address this? How can we support risk-taking and entrepreneurship while safeguarding job quality, collective bargaining and social protection? Our expert panellists will address these questions.
This event will include an opportunity to meet and hear from local businesses and social enterprise organisations. Join us for some refreshments after the panel discussions and the informal opportunity to connect with other people working in this arena.


12.30pm to 1.45pm
Reimagining Cities in the Context of Urban Regeneration - Panel discussion 1
Speakers:
Professor Charlie Jeffery, University of York and N8
Riccardo Marini, Architect, Marini-Urbanismo
Ellie White, C40 Cities
Andrew Farrimond, Sector Head for Infrastructure, Aviva Capital Partners
Chair: Jen Williams, Financial Times
Refreshments
2.30pm to 3.45pm
The Importance of Social Enterprise - Panel discussion 2
Speakers:
Richard Brice, Clean Slate Solutions
Tom Mackenzie, SPARK:York
Joanna Pollard, Social Enterprise UK
Laura Pulleyn, Ford Family Foundation
Chair: Kiran Trehan, University of York
3.45pm to 4.45pm
Reception including networking and a chance to hear people involved in social enterprise


Presented in collaboration with Aviva.
This event is part of a public event series sponsored by the N8 Research Partnership and the RSA bringing together thought leaders from the public, private and academic sectors to discuss how levelling up is shaping the North and how the North is leading the conversation nationally.
Image: Kindlewoods community tree planting work with 200 members of the local community last year - © Kindlewoods
About the speakers
SESSION ONE
Professor Charlie Jeffery became Vice-Chancellor and President at the University of York in September 2019. He joined us from the University of Edinburgh where he had been Senior Vice-Principal since 2014. He was a Member of Council of the Economic and Social Research Council from 2006-12 and Chair of the Political Studies Association of the UK from 2009-12.

He has a deep-rooted interest in how university research and education can serve the general benefit of society, or public good. In Edinburgh and now in York he has worked to bring together the University with local authorities, businesses, other universities and colleges to promote inclusive economic development, and to open up access to university study and economic opportunity to people from disadvantaged backgrounds - both in the UK and internationally.

Charlie is committed to sustainability, in particular, harnessing the expertise and passion of the university sector to respond to the climate crisis.

Charlie is Chair of the N8 Research Partnership (a collaboration of the eight most research intensive universities in the North of England), a member of the Partnership Board of key organisations in the City of York, the York Central Steering Board, and the Humber and North Yorkshire Integrated Care Board.

Ellie White is the Students Reinventing Cities Project Officer at C40 Cities, part of the Urban Planning & Design Team in the Department of Climate Solutions and Networks.

Ellie works with 12 world-leading cities, as well as students and academia across the globe to coordinate the Students Reinventing Cities Competition.

Operating within C40's larger Reinventing Cities Programme, the initiative invites young people to reimagine urban spaces, sharing their vision for green and thriving neighbourhoods to make the 15-minute city a reality.

Prior to this role, coordinated the 2022 Bloomberg Philanthropies Awards at the C40 World Mayors Summit in Buenos Aires, Argentina which celebrated best practices of city-led climate action.

Ellie is passionate about youth engagement, international cooperation and inclusive activism, having supported C40's Youth Delegation and delivered the European Union's ERASMUS+ KA204 'Good Practice Exchange Week' with Women's NGO 'Asociación Por Ti Mujer' in Valencia, Spain,

Ellie is fluent in Spanish and proficient in Italian and holds a BA in Modern Languages from the University of Bristol.

Jennifer Williams has been the Northern England Correspondent for the Financial Times since 2022. Prior to that, she was the Politics and Investigations Editor at Manchester Evening News for 11 and half years. She is a past Specialist Writer of the Year winner at the Regional Press Awards.
Riccardo Marini M Arch, Dip Arch, RIBA, FRIAS, MRTPI was born in Pistoia, Tuscany and he is aware that this place and its culture has very much shaped who he is. He was reminded by his father when he graduated from the Mackintosh School of Architecture, Glasgow, that he had, since he was a child, always wanted to be either: a priest, a policeman or an architect, and that he was happy he had chosen the creative path.
He believes that people have to be central to the process of creating our future settlements and in our endeavours to rethink our existing ones. As an architect who would define himself as a modernist, he is acutely aware of the destructive nature of architecture, which does not know where it belongs, or who it is there to serve. Riccardo loves design and designing but is fascinated by what makes places work. He has come to a simple conclusion that places are a reflection of the culture of the people who created them. A good place is one in which people feel happy, and feeling happy, like being well, are relative states. They are the result of some basic requirements, which are ably described by Maslow's hierarchy of needs.
For many years, Riccardo has endeavoured to show that the real value of place is far more profound than monetary value alone but that the economic indicators which drive a lot of the current decision making can only be achieved and sustained if you create the genuine article, a place that makes people happy. After working for many years as a senior city officer he worked as a director with Gehl architects in Copenhagen with whom he still collaborates, he founded Marini Urbanismo in 2017. In 2019 he was involved in the setting up of URBAN LIVING an urbanism, place making consultancy in Kazakhstan. He is Partner and Director of Place Making.
SESSION TWO
Richard Brice is the founder of Clean Slate Solutions. On a lifetime's mission supporting people with past conviction into paid employment. Building up a network of willing socially committed employers and supporters across North Yorkshire and Teesside - introducing those who are fresh out of the justice system to this network is a real privilege. Changing perceptions, policies and most importantly career prospects.
Joanna Pollard is Social Enterprise UK's Programme Lead for the eBay for Change partnership. A seasoned trade justice campaigner, Joanna was Co-ordinator of Fairtrade Yorkshire and a member of York Fair Trade Forum for several years. She served on the Board of BAFTS Fair Trade Network UK for six years and believes passionately that ethical business is the key to a fairer world. In March 2023 Joanna was named among the Top 100 Women in Social Enterprise in Europe by the Euclid Network.
As a Managing Director and single mum of two daughters, Laura Pulleyn is a passionate advocate for business purpose, bridging the gap between sectors to deliver value, create equitable partnerships and influence a change in how we define business successes. With a cross sector background in private sector CSR, public sector procurement and roles within the third sector, Laura has combined her personal and professional experience to provide social enterprise and charities with pro bono consultancy and advisory services, helping them further their social mission, scale their work and develop corporate partnerships.
As Managing Director of the Ford Family Foundation Laura works alongside the charities founder, Tony Ford, to support the charities strategic direction and maximise its impact. Inspired by the incredible work and economic contributions of our Social Enterprises, the Foundation was created to support our Social Enterprises with grant funding and mentorship, elevate and commercialise the profile of the sector and influence transformative change at policy level. Laura is responsible for creating an ecosystem of strategic partnerships across major universities and community networks to ensure funding reaches the social entrepreneurs where it can create the greatest impact.
Partners