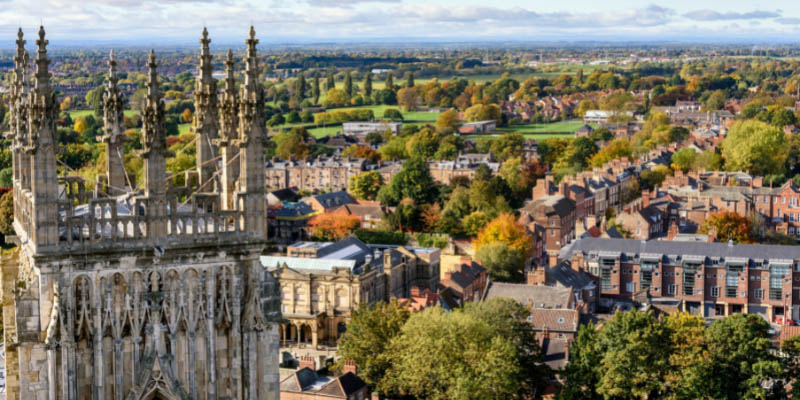 Reimagining a Rewilded York Paul Jepson, Jai Sandhu, Rob Stoneman, Nicola Ward, Lee Pitcher and James McKay
Exhibition
Panel discussion
This event has now finished.
Date and time:

Tuesday 13 June 2023, 7pm to 9pm

Location:

In-person only
St Saviourgate York (Map)

Admission:

Free admission, booking required
Event details
What are your wildest imaginings for York?
This special evening will explore just that and reflect on the exciting possibilities this presents not just for nature, but for our infrastructure, health and communities. Join our inspiring panel of experts as they discuss the wild wonders already happening in York as well as what a rewilded York could look like in reality.
Our group of experts and local community leaders, chaired by Jeff Davitt from the Yorkshire Rewilding Network, will debate and answer questions such as:
Why rewild cities?

What's already happening in York to make it wilder?

What could a future rewilded York be like?
Throughout the evening, artist James McKay will capture the ideas and suggestions that are generated on canvas, co-creating a collaborative, inspiring vision of what a rewilded York could look like.
There will also be an exhibition in the space, featuring local community groups, showcasing their work and their vision for a wilder York - come early to take a look around.
There will be a fully licensed bar and you are welcome to enjoy drinks on the outdoor terrace or whilst viewing the exhibition.
Doors open at 6pm - event starts at 7pm.
Image credit: ©SAKhanPhotography
Yorkshire Rewilding Network
The Yorkshire Rewilding Network (YRN) is a registered charity which aims to bring together anyone in the region who has an interest in rewilding - to inspire one another, share knowledge and experience, and work towards a brighter, more sustainable future for all inhabitants… be they creatures great or small. The charity is run by volunteers supported by a part-time community engagement officer and a part-time project officer. In 2022, YRN received a grant from the national charity Rewilding Britain to pilot a 2023 festival to provide cultural experiences that connect people to the wild in Yorkshire and help them to imagine a wilder future.
Connect with Yorkshire Rewilding online:
Yorkshire Rewilding Network Website
Yorkshire Rewilding Network Twitter
Yorkshire Rewilding Network Facebook
About the speakers
Artist
James McKay is an artist and science communicator who regularly collaborates with researchers in many fields to bring discoveries and ideas to life. He is the manager of two EPSRC Centres for Doctoral Training in Low Carbon Technologies and Bioenergy. James facilitates art/science crossover activities and futurecasting sessions. He creates illustrations that visualise a positive, optimistic, sustainable future, such as the production of graphic novels, including Dreams of a Low Carbon Future, funded by the Royal Academy of Engineering in 2013, which was shortlisted for a national award (NCCPE Engage Awards 2014).
Panellists
Jai Sandhu is a design engineer with a passion for nature and sustainability. He enjoys using design creativity as a tool to find exciting solutions to seemingly intractable problems. As a coordinator of Wild York and co-founder of Wild Streets, Jai is now working to make cities greener and more biodiverse by helping people imagine and co-create the natural infrastructure and urban forests of the future.
Rob Stoneman has recently returned to The Wildlife Trusts as Director of Landscape Recovery. Before this, he worked for Rewilding Europe facilitating landscape scale rewilding in Romania, Germany, Poland, Sweden and Italy. He has expertise in peatland conservation and landscape-scale change, as well as a deep interest in urban and marine ecology. He is a York resident and was Chief Executive of Yorkshire Wildlife Trust for 13 years.
Paul Jepson is Head of Innovation at CreditNature. Paul is the author of Rewilding: The Radical New Science of Ecological Recovery (Icon Books), a geographer and zoologist with experience in conservation research and policy as well as cross-sectoral experience spanning international government, academic institutes and commercial organisations with a particular focus on the UK, Indonesia and Brazil. He is a past supervisory board member of Rewilding Europe.
Nicola Ward is a Green Corridors Officer at St Nicks, a sustainability charity and home of a thriving 24-acre urban Local Nature Reserve, formally a landfill site. Nicola's role involves working with communities, landowners and other environmental organisations to deliver nature conservation projects across York.
Lee Pitcher was Yorkshire Water's Head of Partnerships and a Board Member for the 'Living with Water' project in Hull and the East Riding, a pioneering partnership aimed at turning Hull into an exemplar flood resilient City of the future. Lee has also supported the establishment of the new Connected by Water Partnership in South Yorkshire. A recognised industry expert, Lee was invited to present a keynote speech live from the Water Pavilion at COP26 and also presented at Cairo Water Week last year ahead of COP27. Lee is Chair of Absolutely Cultured, the legacy organisation that emerged from the Hull City of Culture.
Chair
Jeff Davitt will chair this event. After a career in the technical and financial aspects of business, Jeff discovered rewilding in 2019 and was inspired by its ability to generate diversity and abundance - a thriving future for nature and for people as a part of it. He co-founded the Yorkshire Rewilding Network in 2020 and is currently its Chair. Alongside his YRN role, he works for Ecosulis and CreditNature as Finance Director.
Partners