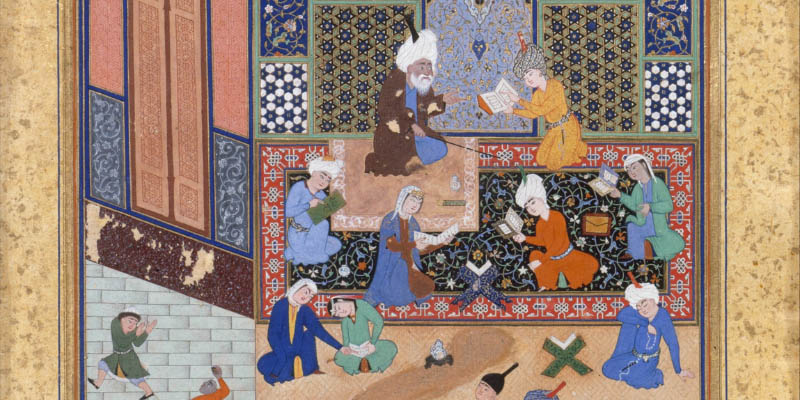 Rumi and the Masnavi: Talk and recitation Alan Williams with Seyed Ali Jaberi and the Hamdel Ensemble
Performance
Talk
Date and time:

Thursday 8 June 2023, 7pm to 9.15pm

Location:

In-person only
National Centre for Early Music, Walmgate (Map)

Admission:

Free admission, booking required
Event details
Born in 1207 near Balkh in eastern Khorasan (modern Afghanistan), Rumi - as he is known in the West - has been famed throughout the Muslim world as one of the greatest spiritual teachers of all time.
Join Alan Williams, University of Manchester Emeritus Professor of Iranian Studies, for a fascinating talk on Rumi, including a recitation and a performance by Seyed Ali Jaberi and the Hamdel Ensemble, centring on the enigmatic story of an old musician, from the first book of Rumi's Masnavi, a work of couplet verses in Persian and Arabic.
The theme is the human journey to unification with God, the source of all existence, through spiritual striving to union with the One known as Ḥaqq ('Truth'), the Beloved, the Friend, by opening the heart and mind to divine love and knowledge, ultimately through sacrifice of the selfish self.
Rumi is one of the best-loved and most influential poets in Islamic culture, and today his fame is global, thanks both to the popularity of modern popular versions and the interpenetration of the Muslim and 'Western' worlds in the post-colonial period.
Do not miss this informative talk and powerful performance.
Annual Bruce Wannell Memorial Lecture
About the speakers
Professor Alan Williams taught at the University of Manchester in the Department of Religions and Theology from 1985 to 2022, and is now Emeritus Professor of Iranian Studies in the University of Manchester. He has published many books in the fields of Iranian Studies, Translation Studies and History of Religions, specialising in the texts and history of old Iranian Zoroastrianism in Iran and India, and in the literature of Islamic Sufism in Classical Persian. He is a Fellow of the British Institute of Persian Studies and the Royal Asiatic Society. He received both a British Academy-Wolfson Research Professorship and a Leverhulme Major Research Fellowship for his scholarly study and new literary translation of the Masnavi of Rumi, an ongoing project to publish all six volumes with IB Tauris / Bloomsbury, London.
Seyed Ali Jaberi is a highly acclaimed tambour Ostād, multi-instrumentalist and educator, who is seen as one of the most significant figures in contemporary Sufi music. He leads the Hamdel Ensemble, a group of Iranian Sufi musicians based in the UK, performing Jaberi's unique contemporary Sufi music compositions. He is known to international audiences, having conducted and performed with the Iranian National Orchestra at the start of his career and since then performing in Iran, North America, Europe and Asia, as well as at many international festivals, including a major Sufi festival in India, London's Barbican, the Mawazine Festival in Morocco, a highly successful UK tour of seven cities in 2019 (with the Hamdel Ensemble) and Expo 2020 in Dubai.
Partners