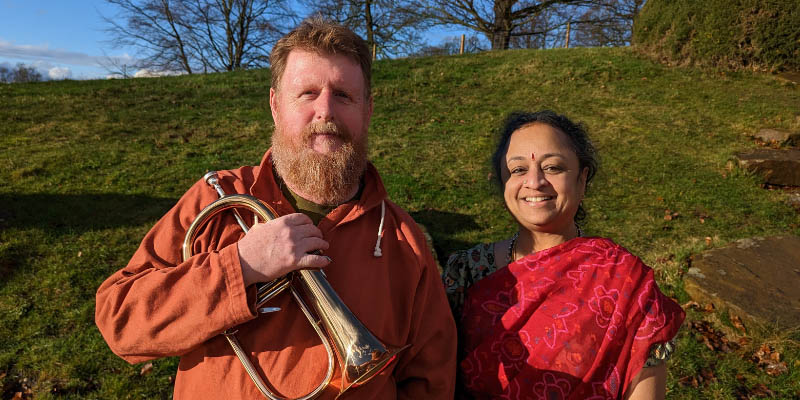 Sita: The multifaceted heroine of Ramayana Supriya Nagarajan and Duncan Chapman
Performance
This event has now finished.
Date and time:

Monday 5 June 2023, 7.30pm to 9pm

Location:

In-person only
The Guildhall (Map)

Admission:

Free admission, booking required
Event details
Join us for a wonderful concert that will take you on a journey of exploration into the world of Sita, the queen of Ayodhya and central figure of Ramayana, a world-famous epic that celebrates the Hindu god Ram and his life and that, in North India, is the basis for Diwali, the Festival of Lights.
Enjoy the beautiful lyrics and music, written, composed and performed by vocalist and storyteller Supriya Nagarajan, who will be joined by musician and sound artist Duncan Chapman.
We are delighted that after the performance, Supriya and Duncan will take part in an audience Q&A.
Note: This is an immersive experience and while seating is available, audience members have the option to bring their own cushions.
Image credit: © Srinivasan Nagarajan
Manasamitra
Manasamitra is a Yorkshire-based arts organisation that specialises in bringing interesting cultural blends together through music and storytelling. Artistic director Supriya Nagarajan is an adept composer/vocalist who has repurposed the work of the company to embrace the new digital avatar of the sector. Podcasting is a new outing for the company and a series of podcasts on the occasion of Diwali in 2020 has led to the new musical work involving ancient Indian mythology. Manasamitra has worked with the Festival and Festival partners Jaipur Literature Festival for the past few years.
Connect with Manasamitra online:
About the performers
Supriya Nagarajan has a unique voice in the British music scene and creates concept-driven immersive music productions that push boundaries and encourage thought. She has performed across the world in various venues like the Harpa in Reykjavik, Royal Albert Hall and the Zee Jaipur Litfest music stage. Her works like Lullaby Sonic Cradle, Sound of Tea and Bollywood Jazz project have won critical acclaim and earned her a niche reputation in the UK and beyond. Her music which is a blend of her South Indian classical traditions and Western contemporary styles have been featured in festivals like the hcmf//, Ultima Oslo and at Casa Da Musica Portugal. She has also released albums under her own Manasamitra label, Tokuroku and Come Play With Me. She regularly receives funding from Arts Council England, PRS Foundation and is a vocal advocate of the Fair Access Principles championed by Sound & Music. Supriya runs a successful mentoring scheme for women composers of colour.
Duncan Chapman is a composer and musician based in Lincolnshire. His recent projects include online live events, a residency at EMS in Stockholm, as well as the curation of a concert for the Aural Diversity project and performances (with Supriya) at the Jaipur Literature Festival in India and at the 2022 WOMAD (World of Music, Arts and Dance) festival. Current projects include online performances with Comb Filter and Humbox, an album of marimba and live electronic pieces with Simon Limbrick, and a duo album (as Quiet Knot) with Shakuhachi player Mike McInerney. Duncan is also working on musical hydrotherapy projects with Liquid Vibrations and an album of solo pieces to be released in 2023.
Partners