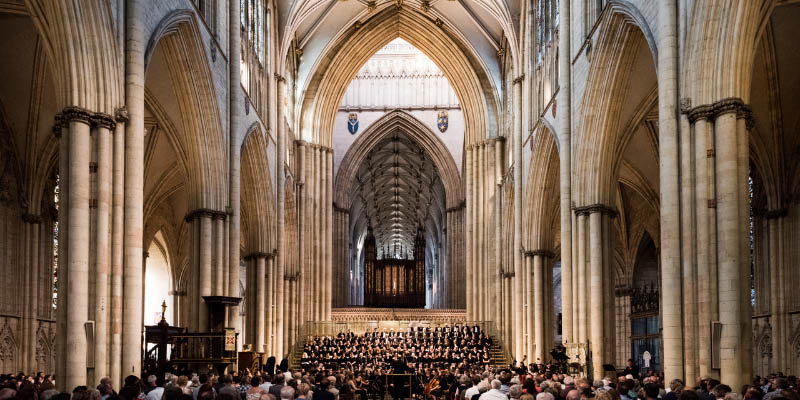 University of York Choir and Symphony Orchestra
Performance
This event has now finished.
Date and time:

Wednesday 14 June 2023, 7.30pm to 9.30pm

Location:

In-person only
York Minster (Map)

Admission:

£25/£20 (£23/£18; students £7/£5); Unreserved Seating: £15 (£13; students £3), booking required
Event details
John Stringer conductor
Elgar The Dream of Gerontius
'This is the best of me', wrote Elgar on his score of The Dream of Gerontius, a statement echoed by audiences and musicians alike since the work's premiere in 1900.
Elgar's vivid setting of Cardinal Newman's poem depicts the journey of a man's soul led by his Angel from his deathbed to judgement before God. On his way, he encounters angels and demons, all colourfully portrayed by the chorus, before settling finally in Purgatory.
Elgar's music is Wagnerian in scope with references to liturgical music, romantic opera and even, in the Demons' chorus, music hall.
University of York Choir and Symphony Orchestra come together for this favourite of choirs, orchestras and audiences, providing a glorious conclusion to the 2022/23 season in the spectacular setting of York Minster.
Partners