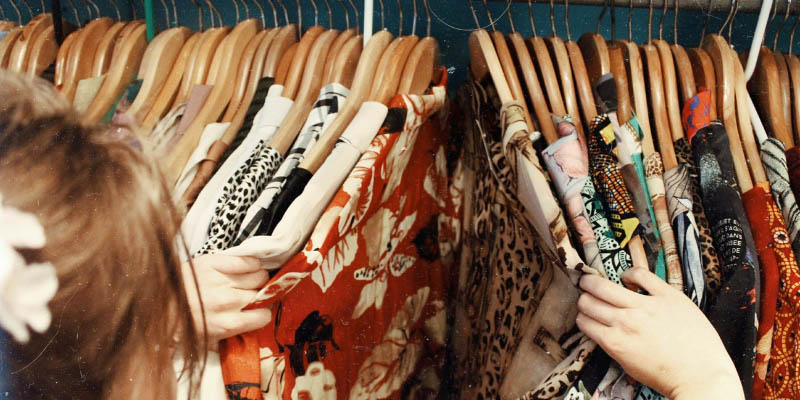 Vain Trifles: Clothes, literature, identity Anne-Marie Evans and Helen Pleasance
Workshop
Date and time:

Thursday 8 June 2023, 4pm to 5.30pm

Location:

In-person only
Holgate Student Centre, York St John University (Map)

Admission:

Free admission, booking required
Event details
Virginia Woolf once said: 'Vain trifles as they seem, clothes change our view of the world and the world's view of us.'
Join us for a fascinating workshop that is all about the power of clothes. From the turn of the 20th century, domestic sewing machines and the growth of the textile industry made fashion accessible to the majority. Since then the clothing industry has revolutionised our relationship to the clothes we wear.
Writing and clothing experts Anne-Marie Evans and Helen Pleasance of York St John University will draw on their research into clothes in literature and share some favourite examples of writers bringing clothing to life.
This will be the starting point for a conversation about what clothes mean to you, leading on to creative writing exercises that will give you the opportunity to start your own piece of clothing memoir or fiction.
Bring along a garment that is significant to you or gather your clothes memories to share.
Whether you want to challenge fast fashion, celebrate self-expression or discover something new about their meaning, it is time to rediscover, reimagine and rebuild your relationship to the clothes we wear.
About the speakers
Anne-Marie Evans is Head of School for Humanities at York St John University, and her research focuses on American women's writing and material culture. She is especially interested in how writers interact with the world of fashion, clothing and accessories.
Connect with Anne-Marie on Twitter
Helen Pleasance is Course Lead for Creative Writing at York St John University. A Creative Nonfiction specialist, she is currently writing a memoir that knits together her life with her mother's and grandmother's through their experiences of needlework. She draws heavily on women's 20th-century fiction to reveal the stitching lives of women.
Connect with Helen on Instagram
Connect with York St John University online:
York St John University Website
York St John University Instagram
York St John University Twitter
Partners