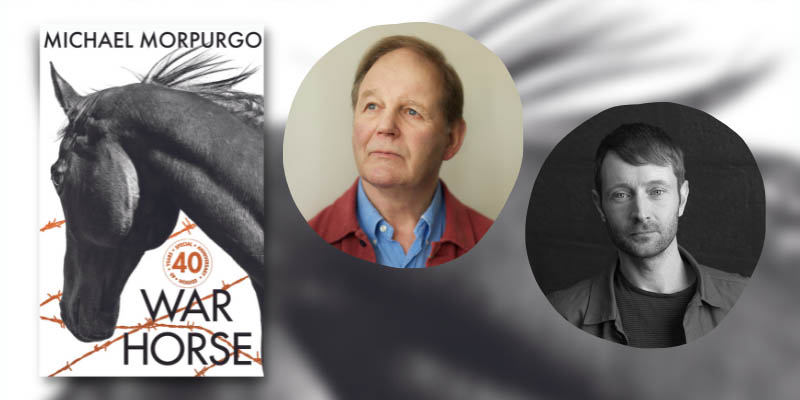 War Horse: The concert Michael Morpurgo with Ben Murray
Performance
This event has now finished.
Date and time:

Sunday 4 June 2023, 6pm to 7.15pm

Location:

In-person only
York Theatre Royal, St Leonard's Place (Map)

Admission:

Free admission, booking required (Sold out)
Event details
Come along for a powerful performance of War Horse, one of the most beloved books by renowned British children's author Michael Morpurgo. First published in 1982 - more than 40 years ago - it has gone on to be a bestselling novel that has been adapted for the stage in an award-winning production by the National Theatre and for the screen in a Steven Spielberg film.
Set in 1914 and told from the perspective of a young farm horse named Joey, the novel follows the story of how he is taken from the fields of Devon and thrust into the midst of the 'Great War' on the Western Front. There, he witnesses the horrors of warfare but also moves the soldiers around him with his courage.
In this very special concert, Michael Morpurgo retells an abridged version of War Horse, accompanied by Ben Murray, with music and songs from the National Theatre production, which Ben also starred in as the Songman.
Join us for an unforgettable concert!
Suitable for ages 9+.
The Jane Moody in Memoriam Event
Book sales
You can buy copies of many of our speakers' books from Fox Lane Books, a local independent bookseller and Festival partner. In some cases, author signed bookplates are available too.
Please note that the physical box office at York Theatre Royal is closed until 1pm on Friday 28 April.
About the performers
Michael Morpurgo, OBE, FRSL, FKC is one of the UK's best-loved authors and storytellers. He was Children's Laureate from 2003 to 2005 and has written over 130 books, including The Butterfly Lion, Kensuke's Kingdom, Why the Whales Came, The Mozart Question, Shadow, and War Horse. War Horse was adapted for a hugely successful stage production by the National Theatre and for a film directed by Steven Spielberg. His book Private Peaceful was adapted for the stage by Simon Reade and made into a film, directed by Pat O'Connor. Michael was awarded an OBE in 2007 and a Knighthood in the New Year's Honours in 2018 for services to literature and charity.
Connect with Michael online:
Ben Murray is an actor, folk musician, composer and singer, who has been singing and playing the piano since he was five. He is one of the founding members of the band Tarras. After releasing three albums with them, Ben has gone on to work extensively in the industry, recording and touring all over the world with artists. Ben spent 2013 performing as 'The Songman' in the National Theatre's production of War Horse. He played the same role in the final West End cast in 2016, and has recently performed in the international tour of the production. He continues to perform with Michael Morpurgo across the country at various festivals and literary events.
Connect with Ben online:
Partners