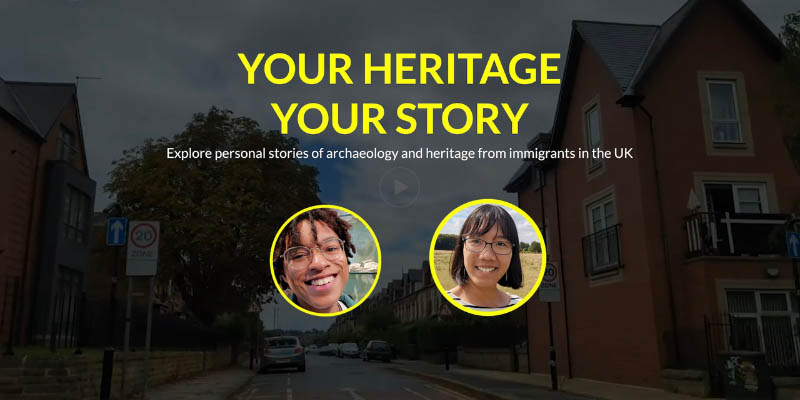 Your Heritage, Your Story Zulfiya Hamzaki, Jon Hook and Marta Herrero
Panel discussion
This event has now finished.
Date and time:

Saturday 3 June 2023, 11am to 12pm

Location:

In-person only
King's Manor, Exhibition Square (Map)

Admission:

Free admission, booking required
Event details
How can we promote inclusion, diversity and equity in archaeology and heritage?
Our panel introduces an important University of York project that challenges prevalent storytelling narratives in these areas, which, historically, have been dominated by white, middle-class perspectives.
The project looks at co-creating personal stories of heritage through an interactive documentary, parts of which will be shown at this event.
Join us to discover everyday stories focusing on experiences of heritage, told by people who have immigrated to the UK, and find out how these stories offer new perspectives around the meaning of archaeology and heritage in relation to building a sense of place and belonging in a new country.
Please note that there is limited wheelchair access. Email yorkfestivalofideas@york.ac.uk for questions regarding accessibility.
This project is part of an XR Stories-funded Masters by Research at the University of York's School of Arts and Creative Technologies, in collaboration with the Council for British Archaeology.
Image credit: © University of York
About the speakers
Zulfiya Hamzaki is a documentary filmmaker and postgraduate researcher at the University of York's School of Arts and Creative Technologies. Her research looks at how the emerging form of the interactive documentary can help achieve inclusivity in archaeology through a practice-based, co-creative project aimed at increasing public engagement and fundraising. Zulfiya's films have explored immigrant stories in the USA, Native American issues and refugee resettlement in California. She has also worked with non-profit organisations on video projects relating to gender, sexuality, rural journalism, disability, education, environment and social design.
Jon Hook is a Senior Lecturer in Interactive Media in the School of Arts and Creative Technologies at the University of York. He joined the department in 2014 and, in the subsequent years, has contributed to establishing their Interactive Media BSc, for which he is now the programme leader. Jon is also an active researcher and one of the founders of York's interdisciplinary Digital Creativity Labs.
Marta Herrero is a Senior Lecturer in Business of the Creative and Cultural Industries in the School of Arts and Creative Technologies at the University of York. She holds a PhD in Sociology from Trinity College, Dublin, and an MA in Women's Studies from Lancaster University. Before joining the University of York in June 2021, Marta held posts at the University of Sheffield Management School, the University of Plymouth and the Institute of International Integration Studies at Trinity College, Dublin.
Partners