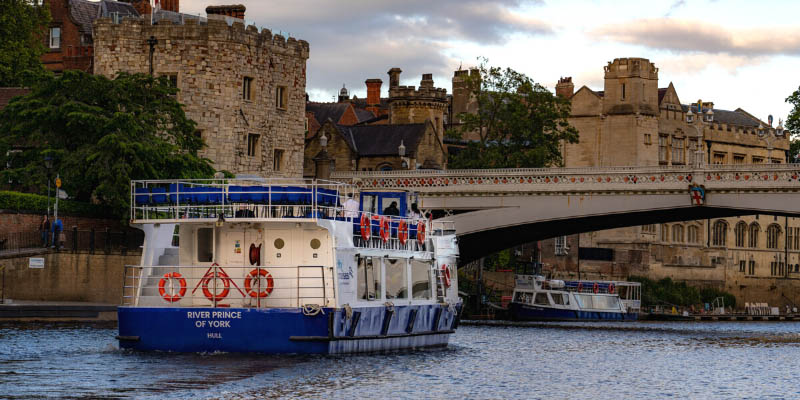 York Unlocked's 'Architecture of the River Ouse'
Mon 5 June to Thurs 15 June
Price: £9.80 (use discount code IDEAS when booking on the City Cruises website), booking required
York city centre
Join this special York Unlocked City Cruises tour at a discounted rate to explore the key architectural sites along the Ouse and to find out about the projects aiming to enhance our city's riverside in the coming years.
York Unlocked's 'Architecture of the River Ouse', made possible thanks to City Cruises York, will highlight the key architectural sites along the Ouse and discuss plans for enhancing the City of York's riverside in the coming years.
Rediscover the great architecture of the Ouse and reimagine past times, when York was an inland port and the stones of the mighty York Mister were brought up Stonegate from the riverside Common Hall Lane entrance.
There will be a chance to engage with the Coney Street Riverside regeneration plans and to look at some familiar places through fresh eyes.
You will receive a detailed map and handouts so you can make the most of your cruise.
Thanks to the generosity of City Cruises York, you will get a 30 per cent discount on the regular price, which means tickets will cost £9.80 each. To book at the discounted rate, visit the City Cruises Website and use the discount code IDEAS.
For departure times see the City Cruise schedule. Upon booking, you will be able to choose whether to go from Kings Staith Landing or Lendal Bridge Landing.
Accessibility: Please note that not all boats are accessible for wheelchair users. Please contact 020 77 400 400 with any questions regarding accessibility.
Image credit: © Milner Creative
York Unlocked
York Unlocked aims to showcase buildings and open spaces of merit in York. They welcome visitors to uncover hidden gems and experience familiar places through fresh eyes. Their main event is a weekend of open buildings, which, this year, will take place on 7 and 8 October.
Find out more about York Unlocked:
Partners