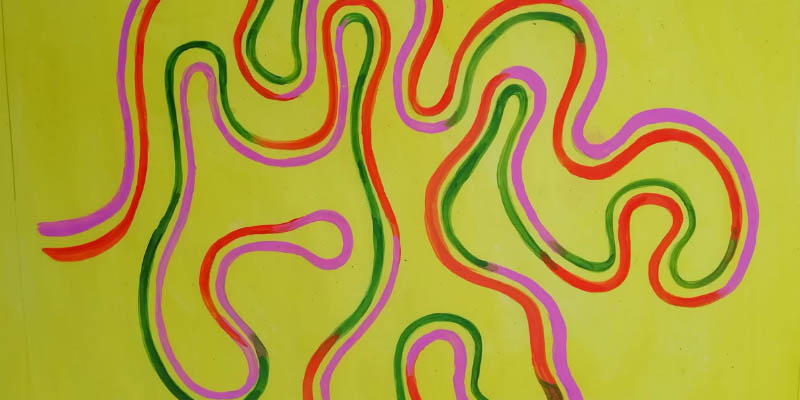 Labyrinth for Wellbeing
Throughout the Festival, 9am to 5pm
Free admission
No booking required
King's Manor, Exhibition Square (map)
Come along to (re)discover how enriching walking a labyrinth can be. In the atmospheric setting of Kings Manor, explore a labyrinth that reflects its natural surroundings, laid out in a pattern you won't have seen before. Rebuild your calm and confidence as you walk or view the labyrinth, which is suitable for people familiar with labyrinths, as well as those of you who are just beginning to learn about them.
The leaf-shaped labyrinth on the lawn of The King's Manor was inspired by the oak tree to the right as you enter the grounds. It is unlikely that anyone walking the labyrinth will be as old as the tree and it is still an arboreal juvenile with centuries of life ahead of it. Again unlike those walking the lawn, the oak tree will 'breathe more deeply' every year. It already provides sufficient oxygen for nine other people besides yourself and will, if needed, respond to increased CO2 levels from the city traffic by increasing its photosynthesis, storing carbon and exhaling oxygen.
Notice two other mature trees on the lawn: a Persian Ironwood and a Norway Maple. You may wish to have a closer look at these two species, noting the similarities and differences to the oak tree. Consider how each tree contributes to the aesthetic and natural environment of this oasis in the heart of York.
There is much to celebrate as you walk the labyrinth and increase your wellbeing thanks to the presence of the oak tree. Begin by breathing more slowly for a few minutes. When you are ready, walk slowly to the centre of the lawn along the sawdust pathway until you reach the centre of the labyrinth. Pause for thought, then return on the same pathway. You may want to thank the oak tree before you leave the lawn.
Connect with Labyrinth for Wellbeing on Facebook
Download the Labyrinth for Wellbeing 2023 finger labyrinth (PDF

, 244kb)
Find out how to walk a labyrinth
Important information to note:
Please be aware that the drive around the lawn is in regular use throughout the day and evening.

Please take care on wet grass as it may be slippery.

Please be aware that people are working in nearby offices. We appreciate you keeping noise to a minimum.

Unfortunately, the lawn is not wheelchair accessible. However, both wheelchairs and pedestrians can use the surrounding drive to circumnavigate the labyrinth, as long as extra care is taken to be aware of vehicle traffic on that drive.
Image credit: © Peter Clark
About the creators
The labyrinth was created by Revd. Peter Clark, Janet Eldred and Revd. Catherine Reid. Peter has been laying labyrinths in various mediums for several years in numerous locations, including a prison, a hospital, churches, a conference centre and public parks. Janet, a University of York alumna and staff member, walks labyrinths wherever she finds them and shares her enthusiasm with willing listeners. Catherine, an Anglican Priest and University of York Chaplain, thinks labyrinths are a brilliant prayer and reflection tool. Labyrinths offer a great way to slow down and ponder a question with God, and Catherine has used them in a variety of settings with groups and individuals. The creators thank the University's Estates team for preparing the site for this labyrinth.
Partners