Guinea Worm Disease: Using DNA detection to break the life cycle

Jenny Tomlinson/span>
Event details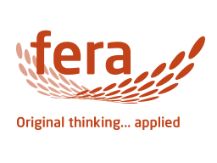 Guinea worm disease, also known as Dracunculiasis, is a debilitating condition contracted by drinking unfiltered water containing tiny crustaceans infested with Guinea worm larvae. In recent years, cases of Guinea worm disease were reported in Chad, Mali, South Sudan and Ethiopia. Once swallowed, the worm makes its way out of the stomach towards the skin, erupting from a blister on the foot or leg about a year later.
Jenny Tomlinson of Fera Science Limited will explain how to break the life cycle, people need to avoid drinking contaminated water - which is where Fera comes in. Novel DNA-based methods are allowing Fera scientists to detect larvae carried by the microscopic crustaceans in the water, bringing the potential to identify safe and unsafe sources of water. Using original thinking, the methods Jenny and her colleagues are developing are simple enough to be used outside the laboratory.
About the speaker
Dr Jenny Tomlinson is a research scientist at Fera Science Ltd with 14 years' experience in the development of DNA-based methods for the detection of biological targets including plant pathogens and insect pests. Jenny has a particular interest in the development of tests for use away from conventional laboratory facilities, for example, at disease outbreaks.
Tickets