What's Been in my Pond?

Eleanor Jones/span>
Event details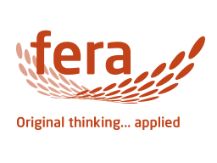 For decades now, we've been able to identify animals and plants from their DNA, retrieving the DNA from a piece of tissue or leaf and comparing it to DNA databases. This has let us identify things where they are too mangled, fragmentary or difficult to recognise - for example, identifying an insect from the remains of its pupal casing, or a plant from a single leaf.
But can we take this further and identify things from the DNA they leave behind in the environment? Eleanor Jones of Fera Science Limited discusses the emerging area of research called 'environmental DNA'. Find out how it has been used to identify whether a particular animal or plant lives in a pond from a water sample, or what plants are in an area by trapping the pollen in the air.
The principle is relatively simple: animals and plants will shed bits of themselves into the environment, so if we can capture that DNA and sequence it, we can in theory identify what those animals and plants were. The applications are still being discovered, as are some of the pitfalls. Join Eleanor and find out what's possible (or still impossible!) with eDNA.
About the speaker
Eleanor Jones, is a molecular ecologist at Fera Science Limited, applying DNA typing and sequencing methods to detect and identify species. This ranges from identifying species by 'DNA barcoding' where conventional identification cannot be used, to recovering and identifying target DNA from a range of matrices or environments such as pathogens in plant material, tree species from mixed wood samples, or organisms in ponds or lakes.
Eleanor's other main area of research and expertise is in population genetics, using DNA-based methods to examine population dynamics (colonisation and admixture, population differentiation, breeding systems, dispersal distances) in a range of animals, including bees, hornets, house mice, rats, and foxes.
Tickets