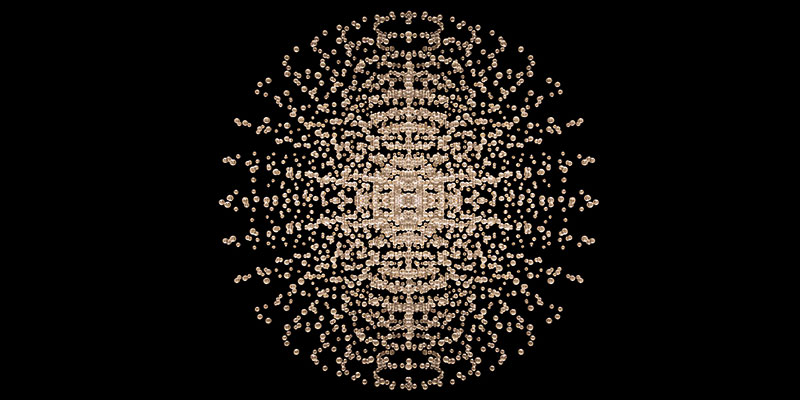 Wordless and Pictureless Forms of Mathematics and Music Helena Daffern, Ben Glassberg, Jason Levesley, Tom McLeish, Anna Phoebe and Jez Wells (Chair)
Panel discussion
Talk
This event has now finished.
Date and time:

Sunday 16 June 2019, 3.30pm to 5pm

Location:

Tempest Anderson Hall, Yorkshire Museum, Museum Gardens (Map)

Audience:

Open to the public

Admission:

Free admission, booking required
Event details
As part of our Focus Day, The Poetry and Music of Science, we examine the links between abstract structures in music and mathematics.
Tom McLeish, the University of York's first Professor of Natural Philosophy and author of The Poetry and Music of Science is joined by speakers including award-winning conductor Ben Glassberg; international musician and composer Anna Phoebe; and mathematician Jason Levesley and expert in music technology Helena Daffern, both of the University of York.
The event, which is chaired by Jez Wells of the University of York, features a not-to-be-missed short performance by violinist and composer Anna Phoebe. Anna has toured the world with artists such as Roxy Music, OiVaVoi, Jethro Tull, Jon Lord and Trans-Siberian Orchestra.
Our Festival Focus Day aims to break the silence on the deep creativity and imagination required in science. Why not join us for our earlier panel discussions, The Art of Visual Imagination and The Entanglements of Science and Literature?
You may also enjoy a special exhibition by Alexandra Carr, Weight of Light, which runs throughout the Festival.
Listen to The Wonder of the Creative Brain, a podcast featuring Tom McLeish.
Image credit: Image courtesy of artist Alexandra Carr, The Leverhulme Trust, Durham University, The Ordered Universe Project and Ushaw College
About the speakers
Helena Daffern is currently a Lecturer in Music Technology in the Department of Electronic Engineering at the University of York. She received a BA (Hons.) degree in music, an M.A. degree in music, and the D.Phil. degree in music technology, all from the University of York, UK, in 2004, 2005, and 2009, respectively, before completing training as a classical singer at Trinity College of Music. Her research utilises interdisciplinary approaches to investigate voice science and acoustics, particularly singing performance, vocal pedagogy, choral singing and singing for health and wellbeing. Recent projects explore the potential of virtual reality to improve access to group singing activities and as a tool for singing performance research, to understand what about singing together is good for you.
Ben Glassberg is Principal Conductor of the Glyndebourne Tour and Associate Guest Conductor of the Orchestre National de Lyon. Ben studied conducting with Sian Edwards at the Royal Academy of Music, following the completion of his music degree at the University of Cambridge. A regular at Glyndebourne Festival Opera, Ben conducted a performance of La Clemenza di Tito in summer 2017, making him one of the youngest conductors to debut at the festival in its history. More recently, Ben has conducted the London Philharmonic Orchestra and the St Petersburg and Detroit Symphony Orchestras. He was the winner of the the 55th Besançon Competition for Young Conductors in 2017.
Dr Jason Levesley is a Senior Lecturer in Mathematics at the University of York. A member of the Number Theory Research Group, until recently he was the Chair of the Board of Studies in Natural Sciences. Number Theory is often considered to be one of the purest areas of Mathematics, but in recent years with the advent of digital computing, the growth of cryptography, telecommunication and the emergence of links with dynamical systems and physical phenomena, it has found new applications, including in wireless communications.
Professor Tom McLeish is Chair in Natural Philosophy in the Department of Physics at the University of York, where he is also a member of the Humanities Research Centre and the Centre for Medieval Studies. He is a Fellow of the Royal Society, the Institute of Physics, the Royal Society of Chemistry and the American Physical Society. Tom joined York in 2018 from Durham University, where he held the role of Pro-Vice-Chancellor for Research until 2014. He is a theoretical physicist whose work is renowned for increasing our understanding of the properties of soft matter (which includes polymers and the physics of biological structures). Author of The Poetry and Music of Science (OUP 2019), and Faith and Wisdom in Science (OUP 2014), he is also interested in historical studies of medieval science, the relationships between humanities and sciences, and the philosophy and theology of science.
London-based Anna Phoebe is a violinist/composer, who has toured the world with artists such as Roxy Music, OiVaVoi, Jethro Tull, Jon Lord and Trans-Siberian Orchestra. She is currently working and touring with Nitin Sawhney. Anna has performed on international stages including arenas across the USA, Royal Albert Hall, Royal Festival Hall, Glastonbury, Fuji Rock Festival and Montreux Jazz Festival. Her instrumental duo AVA recently signed to One Little Indian Records (home of Bjork, Skunk Anansie, Poppy Akroyd). Their debut album Waves will be released in July 2019. Anna is currently composing Between Worlds - a full-length work for choir, violin, string ensemble and synthesiser. It is written in response to spectacular visual imagery provided by research at the School of Biosciences, University of Kent, funded by Cancer Research UK. Anna works as a composer for the Royal Ballet School.
Dr Jez Wells is a Senior Lecturer in the Department of Music at the University of York, where he leads the Music Production, Processing and Analysis research group and the MA in Music Production. He graduated from the University of Surrey's Tonmeister programme in Music and Sound Recording in 1994. He worked for Digital Audio Research and Fairlight before moving to York in 2000 to study Music Technology at Masters and then PhD level. Prior to moving to the Department of Music in 2012, he worked as a Lecturer and Research Associate in the Department of Electronic Engineering. He held an Ingenious Public Engagement Fellowship with the Royal Academy of Engineering from 2011 to 2012. He is active as an audio designer and sound recordist, with work released by labels as diverse as Naxos, Touch and Sabres of Paradise. Audio processing software for the manipulation of reverberation that Jez first developed for an audio-visual art installation commissioned at the National Centre for Early Music in 2016 is due to be released commercially later this year.
Partners