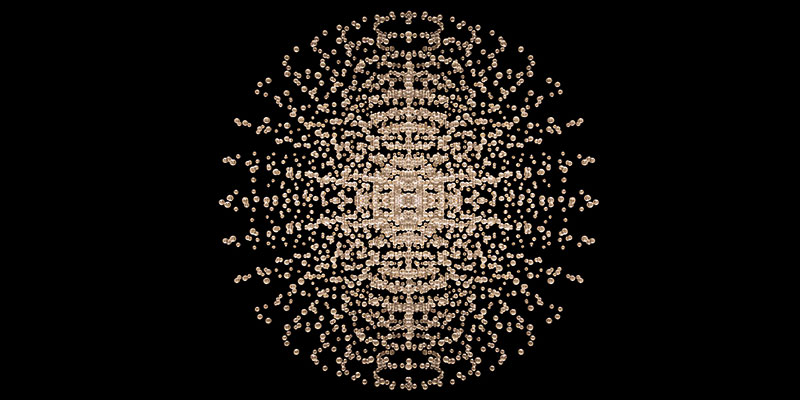 The Art of Visual Imagination Alexandra Carr, Suzanne Fagence Cooper, Carlos Frenk, Susan Halls, Tom McLeish, Joanna Norman and Rivka Isaacson (Chair)
Talk
Panel discussion
This event has now finished.
Date and time:

Sunday 16 June 2019, 11am to 12.45pm

Location:

Tempest Anderson Hall, Yorkshire Museum, Museum Gardens (Map)

Audience:

Open to the public

Admission:

Free admission, booking required
Event details
Inspired by The Poetry and Music of Science, a new book by the University of York's first Professor of Natural Philosophy, Tom McLeish, our Festival Focus Day of the same name aims to break the silence on the deep creativity and imagination required in science.
Following an introductory talk by Tom, our expert panel of artists and scientists discuss the connections between visual thinking in painting and science. Join them as they challenge the assumption that science is less creative than art and point to common territories in the creative process.
Speakers include Joanna Norman, Director of the V&A Research Institute; astrophysicist Carlos Frenk of Durham University; artist Alexandra Carr; curator Suzanne Fagence Cooper and University of York artist in residence Susan Halls. The session is chaired by Rivka Isaacson of King's College London.
Afterwards, why not stay for the rest of The Poetry and Music of Science Focus Day, with sessions on The Entanglements of Science and Literature and Wordless and Pictureless Forms of Mathematics and Music?
You may also enjoy a special exhibition by Alexandra Carr, Weight of Light, which runs throughout the Festival.
Listen to The Wonder of the Creative Brain, a podcast featuring Tom McLeish.
Image credit: Image courtesy of artist Alexandra Carr, The Leverhulme Trust, Durham University, The Ordered Universe Project and Ushaw College
About the speakers
Alexandra Carr is an international artist working collaboratively with world-leading experts including engineers, chemists and theoretical physicists on interdisciplinary projects with MIT, Oxford and Durham Universities. She responds to natural processes and phenomena, such as magnetism, light and ice structures. Her practice focuses on the boundary between art and science, and includes installation, sculpture, kinetic work, drawing, photography and video.
Suzanne Fagence Cooper is Research Curator for Ruskin, Turner & the Storm Cloud, currently on display at York Art Gallery. She is a writer, curator and lecturer, and her books include To See Clearly: Why Ruskin Matters (Quercus, Feb 2019) and Effie Gray (Duckworth). Suzanne is an Honorary Visiting Fellow with the Department of the History of Art at the University of York. Her research is focused on 19th and 20th-century British art and design. Her doctoral research considered the relationship between art and music in Pre-Raphaelite and Aesthetic art, and she has continued her interdisciplinary approach in her work on Millais, Burne-Jones and William Morris, and photographers Cameron and Hawarden. She was a curator and Research Fellow at the V&A Museum for 12 years and has worked as a consultant for a number of TV and film projects.
Carlos Frenk is Ogden Professor of Fundamental Physics and Director of the Institute for Computational Cosmology at Durham University. He is one of the originators of the 'Cold dark matter' theory for the formation of structure in our Universe. Along with collaborators from around the world, he builds model universes, based on the known laws of physics. Using powerful supercomputers, he and his colleagues try to understand how our Universe evolved from the simple beginnings of the Big Bang to the present day and how it developed the complex structures, composed of stars and galaxies that we see around us today. He was elected Fellow of the Royal Society in 2004 and has received numerous prizes, including the Royal Society Wolfson award, the Hoyle medal, the George Darwin Prize, the Alexander von Humboldt Fellowship, the Gruber Cosmology prize, the Oort Professorship, the Gold Medal of the Royal Astronomical Society and the Max Born medal from the German Physics society. He is Chair of the Royal Society Public Engagement Committee.
Susan Halls has been resident artist at the University of York since 2018. She studied ceramics at the Royal College of Art in London and graduated with an MA with distinction in 1990. After a residency at the Banff Centre for the Arts in Canada, she established her studio in London, exhibiting widely through the UK and Europe. Susan also became a visiting lecturer to many colleges and universities including Royal College of Art, Central St. Martin's, Manchester Art School, The Cardiff Institute and Bath School of Art. Her work is represented in several public collections, including The Sackler Foundation, Victoria and Albert Museum (London) and Stoke-on-Trent Museum and York City Art Gallery. Her books include Ceramics for Beginners, Animals and Figures (Lark Books). Pinch Pottery, Modern, Functional, Handbuilding (Lark Publishing).
Dr Rivka Isaacson is Senior Lecturer in Chemical Biology at King's College London. She gained her PhD in 2001 from Cambridge University and carried out post-doctoral research at Harvard Medical School and Imperial College London before starting her own lab in 2009, using biophysical techniques to explore protein quality control and antimicrobial resistance. She is a passionate interdisciplinarian involved in many exciting projects at the interface between Arts and Sciences. These include a long-term collaboration with the Iris Murdoch Research Centre at the University of Chichester and 'Viewing the Invisible' a BBSRC-funded project, working with London Fine Art Studios and the National Portrait Gallery, to explore common methodology between artists and scientists.
Professor Tom McLeish is Chair in Natural Philosophy in the Department of Physics at the University of York, where he is also a member of the Humanities Research Centre and the Centre for Medieval Studies. He is a Fellow of the Royal Society, the Institute of Physics, the Royal Society of Chemistry and the American Physical Society. Tom joined York in 2018 from Durham University, where he held the role of Pro-Vice-Chancellor for Research until 2014. He is a theoretical physicist whose work is renowned for increasing our understanding of the properties of soft matter (which includes polymers and the physics of biological structures). Author of The Poetry and Music of Science (OUP 2019), and Faith and Wisdom in Science (OUP 2014), he is also interested in historical studies of medieval science, the relationships between humanities and sciences, and the philosophy and theology of science.
Joanna Norman is Director of the V&A Research Institute. She oversees and directs the V&A's research activities, including postgraduate programmes, R&D for exhibitions and a portfolio of externally-funded research projects. She joined the V&A in 2005 as assistant curator for the Museum's 2009 Baroque exhibition, moving to the Royal Academy of Arts as co-curator of the 2010 Treasures from Budapest exhibition. From 2012-15 she was project curator for Europe 1600–1815, the redevelopment of the V&A's permanent galleries of 17th- and 18th-century European art and design, and was subsequently lead curator for the Scottish Design Galleries at V&A Dundee, which opened in 2018, alongside her research role. Joanna has published widely in association with her curatorial projects, and also on the history of performance (theatre, festivals and musical instruments) in early modern Italy. She has a particular research interest in period rooms and the reconstruction of historic interiors inside and outside the museum environment.
Partners