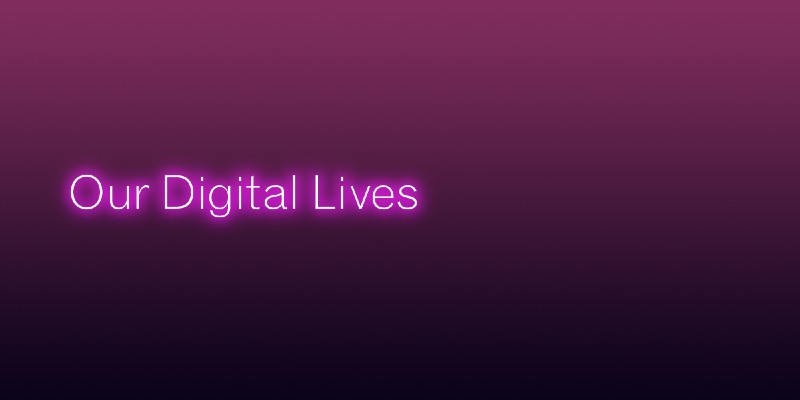 Our Digital Lives Mercedes Bunz, Lorena Jaume-Palasi, Gaspard Koenig and Greg Williams (Chair)
Panel discussion
This event has now finished.
Date and time:

Saturday 13 June 2020, 3pm to 4pm

Location:

Online event

Audience:

Open to alumni, staff, students, the public

Admission:

Free admission, booking required
Event details
Missed this event? Watch the conversation on Youtube.
Part of the Night of Ideas series of events presented by the Institut français du Royaume-Uni
Does your social media know you better than you know yourself?
The democratisation of social networks and big data leads to a confusion between private and public; between what we really want and what we are told to like. How does this affect our capacity to make choices, and the control we have over our own lives?
Discussing the issues are Mercedes Bunz, Senior Lecturer in Digital Society, King's College London; Lorena Jaume-Palasi, Founder, The Ethical Tech Society; and Gaspard Koenig, Philosopher and Founder of GenerationLibre. The event is chaired by Greg Williams, Editor-in-chief of WIRED.
This event was first presented as part of Night of Ideas 2020 by the Institut français du Royaume-Uni in January 2020.
You may also enjoy other events from the Night of Ideas programme, all of which are screened on Saturday 13 June.
Look out for:
About the speakers
Mercedes Bunz is Senior Lecturer in Digital Society at the Department of Digital Humanities, King's College London (The Internet of Things, Polity 2018, co-published with Graham Meikle). Her research explores how digital technology transforms knowledge and, with it, power. She is currently conducting research on how AI relocates medical knowledge supported by the Wellcome Trust, and is collaborating with the Serpentine Galleries' Creative AI lab.
Lorena Jaume-Palasí is the Founder of The Ethical Tech Society, a fact and theory based non-profit initiative focused on automation and digitisation processes with regards to their social relevance. In 2017 she was appointed by the Spanish government to the High Level Expert Council on Artificial Intelligence and Big Data and is one of the 100 experts of the Cotec Foundation. In 2018 she was awarded the Theodor Heuss Medal "for her contribution to a differentiated view of algorithms and their mechanisms of action".
Gaspard Koenig is a writer, philosopher, and author of a dozen novels and essays. He publishes a weekly column in Les Echos and teaches philosophy at Sciences-Po. In 2013, he founded the classical liberal think-tank GenerationLibre, now ranked among the Top European Think Tanks. His latest book is La Fin de l'individu: Voyage d'un philosophe au pays de l'intelligence artificielle (L'Observatoire, 2019).
Greg Williams is Editor of WIRED UK, which he joined in 2010 after a decade in the publishing industry in New York. He has held senior editorial positions at Details and Arena and has written for numerous titles, including The Guardian, Newsweek and The Observer. In 2017 and 2019, he was awarded Editor of the Year, Technology by the British Society of Magazine Editors for features such as 'UK's biggest ever cocaine heist'. Greg was a judge of the Royal Society Science Book of the Year Award 2018 and is the author of six novels.
The Institut français du Royaume-Uni
Part of a worldwide network, the Institut français in London encourages cross-cultural exchange and presents the best of French culture. Enjoy their wide offer: French courses (online or in-house), film screenings, library collections, children's activities, festivals, talks and concerts. Find out more at institut-francais.org.uk
Partners