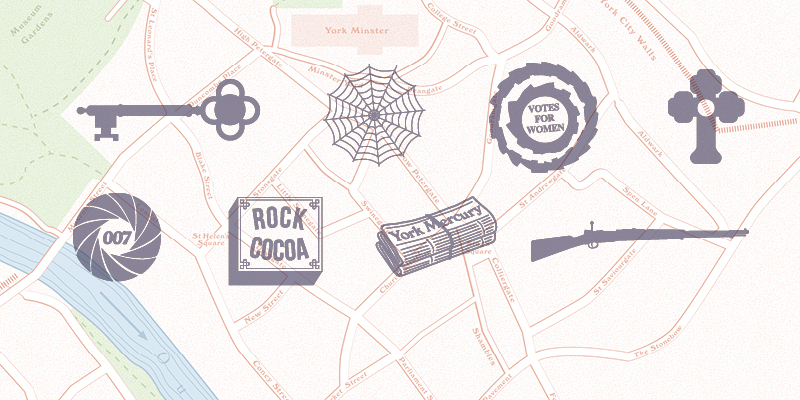 Trailblazing York Walking Trail
Saturday 1 May to Sunday 20 June 2021
Free admission
No booking required
York city centre
In-person event
Wheelchair accessible
We all know that York is an amazing city. But what makes it truly special is its incredible people.
Take a close look around the city centre and you'll find information about 10 inspiring men and women from York's past and present. Whether by bucking the social norms of the day, or through an invention or innovation, each has blazed a trail for others to follow.
Simply follow the map Trailblazing York map (PDF

, 1,835kb) and look out for the Trailblazing York signs, making a note of each trailblazer's name.
Enjoy the fun as you explore our beautiful city and learn about some of the remarkable people who have helped shape York and the world beyond.
And as a special reward for tracking down all 10 trailblazers, we're offering a chance to win a £40 Bettys or High Street Voucher. (Details of how to enter below.)
Let the search begin!
Trailblazing York Walking Trail is part of York Festival of Ideas' tenth anniversary celebrations and is presented in partnership with Indie York.
How to take part in the trail:
You can download a Trailblazing York map here Trailblazing York map (PDF

, 1,835kb) or pick one up from any of the following venues:
York Visitor Information Centre, 1 Museum Street, YO1 7DT (Friday, Saturday and Sunday, 10am to 3pm only until 17 May)
Merchant Adventurers' Hall, Fossgate, YO1 9XD (Merchants' Coffee House)
Dog & Bone Vintage, 28 Castlegate, YO1 9RP
Drift-In Café, 1-3 Nessgate, YO1 9NP (After 17 May)
Duttons for Buttons, 32 Coppergate, YO1 9NR
Fabrication, 24 Coney St, YO1 9ND
Fancy Dance Shop, 35 Micklegate, YO1 6JH
Galtres Lodge Hotel, 54 Low Petergate, YO1 7HZ
Make Your Mark Rubber Stamps, 26 Goodramgate, YO1 7LG
Monk Bar Model Shop, 2 Goodramgate, YO1 7LQ
O + M Snowhome, 42 Gillygate, YO31 7EQ
Potions Cauldron, 9¾, Shambles, YO1 7LZ
Pyramid Gallery, 43 Stonegate, YO1 8AW
The Cat Gallery, 45 Low Petergate, YO1 7HT
The Little Apple Bookshop, 13 High Petergate, YO1 7EN
The Vintage Rose, 1 College St, YO1 7JF
Totally Awesome, 8 Colliergate, YO1 8BP
Village Gallery, 14 Colliergate, YO1 8BP
Winstons of York, 28 Back Swinegate, YO1 8AD
Wunderplay, 39 Stonegate, YO1 8AW
How to enter our competition:
For your chance to win a £40 Bettys or High Street Voucher, simply complete the trailblazer table and add your details. Complete your entry online.
To enter our competition, you must be aged 13 years or older. You can enter online or take your entry to the Visit York Information Centre, Museum Street, or post it to Events Office, University of York, Heslington, York, YO10 5DD.
The closing date for entries is 30 June 2021.
Find out more
Visit this page from 1 July 2021 to find out more information about our 10 amazing York Trailblazers.
Indie York
York has a thriving independent scene with 65% of its businesses being independently run. Indie York supports and celebrates those local businesses in our online directory and printed map. There is a unique assortment of specialist shops, award winning restaurants, cosy cafes, characterful places to stay and bespoke services catering to all local resident and visitor interests and needs; many of which can only be found in York.
Partners