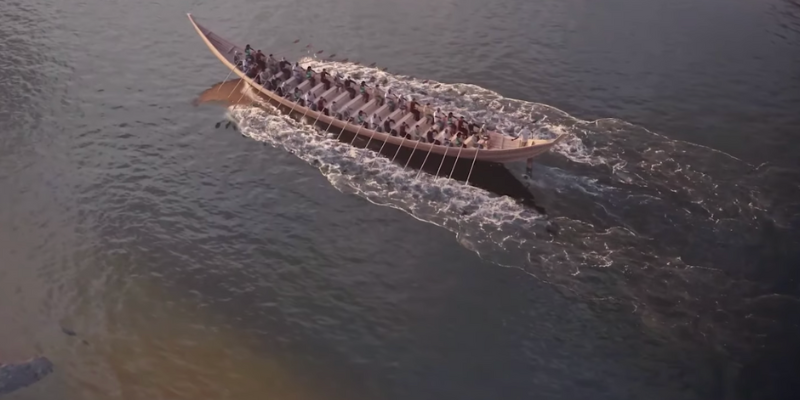 Getting Around in the Seventh Century: Researching early travel in Britain, Europe and the Mediterranean Martin Carver
Talk
This event has now finished.
Date and time:

Saturday 10 June 2023, 2.30pm to 3.30pm

Location:

In-person only
Piazza Building, Campus East, University of York (Map)

Admission:

Free admission, booking required
Event details
What was it like to travel around in seventh-century Britain, Europe and the Mediterranean? And what does that have to do with a Saxon ship that is being rebuilt in the 21st century?
In 1939, at Sutton Hoo in east Suffolk, landowner Mrs Edith Pretty and archaeologist Basil Brown found - by chance - the imprint of a spectacular 90ft long rowing ship.
The Sutton Hoo Ship's Company - based in Woodbridge, Suffolk - is reconstructing this historic ship, using authentic tools and researched methods to make its journeys as close to real life in the seventh century CE as possible.
Hear more about the planned voyages from Martin Carver, University of York archaeologist and chair of the Sutton Hoo Ship's Company, and discover how they are designed to help us learn more about the seventh century, the Age of Sutton Hoo, when the earliest English kingdoms were formed.
You may also be interested in attending a related talk on the Sutton Hoo ship - How to Build a Saxon Ship: Research, decisions, techniques and rewards. There will be family-friendly activities as well - Sutton Hoo: Exhibition and woodwork.
Over 90 volunteers are employed in researching and building the ship - and more are needed. If you are interested in volunteering, get in touch with the Sutton Hoo Ship's Company!
Image credit: © Sutton Hoo Ship's Company
About the speaker
Martin Carver FBA has been a professional archaeologist since 1974. He has excavated and researched in England, Scotland, Ireland, France, Italy, Sicily and Algeria. He directed the latest campaign of research at Sutton Hoo from 1983 to 2005 and is still closely involved with the site. He founded the Sutton Hoo Society in 1984 and has lectured on the find in Europe and America. He was appointed professor and head of the department of archaeology at the University of York in 1986 and has continued to serve the University as an emeritus. He is the author of Sutton Hoo: Burial Ground of Kings? (1998, 2014), Portmahomack: Monastery of the Picts (2016), The Sutton Hoo Story: Encounters with Early England (2017) and Formative Britain: An Archaeology of Britain, Fifth to Eleventh Century AD (2019). He has been Chair of the Sutton Hoo Ship's Company since August 2021.
Partners