In Between: Poems on York's walls

Art installation by York Curiouser
Tuesday 9 June - Sunday 21 June 2015, daylight hours

Free admission


No booking required

City centre
Route not fully accessible, email yorkcuriouser1@gmail.com for details
Event details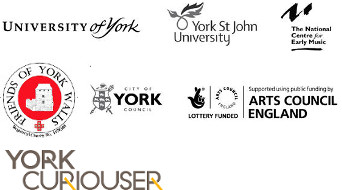 York Curiouser was initiated and is curated by the independent art curators Hazel Colquhoun and Lara Goodband. York Curiouser explores the city through contemporary art interventions. The first year of on-site contemporary art interventions took place from 14 June to 7 July 2014. This year York Curiouser is developing, researching and raising funds to create the next series of interventions in June 2016. The re-installation of the poem series 'In Between' will re-engage people with York Curiouser and prompt discussions about what York would like to see in 2016. In June 2014, nearly 18,000 people saw John Wedgwood Clarke's series of poems 'In Between' stencilled, chalked and on posters in the alleyways that inspired them. This year, in response to the many who wanted to read them again in-situ, York Curiouser will re-install them with an additional new poem about York's Medieval stained glass. This forms part of York Curiouser's research and planning for 2016.
About the Speaker
John Wedgwood Clarke is a lecturer in creative writing at the University of Hull. He regularly works with curators, scientists and artists on public art projects. His first full collection Ghost Pot (2013) was described as 'a masterpiece that rewards continual rereading' by Bernard O'Donoghue and has been selected by New Writing North for Read Regional 2015. Recent poems have appeared in PN Review, Poetry Review, POEM, The New Statesman, Best British Poetry 2012 and Poetry Wales. John is also UK & Ireland Editor for Arc Publications.
His series of poems In Between was installed around the city for York Curiouser last year. This year he has written a new poem inspired by the medieval stained glass in York.
York Curiouser