Secrets, Discoveries & Medicine

Professor Stuart Blume, Professor Nitsan Chorev, Professor David Heymann, Dr Zafar Mirza, Professor Andrew Webster /span>

Wheelchair accessible.
Event details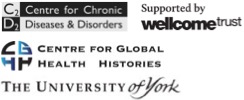 This roundtable will debate pharmaceutical innovation in relation to clinical trial openness, patents and Intellectual Property from an inter-disciplinary perspective. It will examine marketing and business models, and explore some of the major challenges, as well as potential benefits, associated with different practices, legal frameworks and policies. Looking at the implications of all these themes on contemporary global health, it will adopt an international perspective with the help of a range of experts from Europe and the US.
Speakers
Professor Stuart Blume, University of Amsterdam
Professor Nitsan Chorev, Brown University
Professor David Heymann, London School of Hygiene and Tropical Medicine
Dr Zafar Mirza, WHO
Chair: Professor Andrew Webster, University of York
Additional links
Follow Centre for Chronic Diseases and Disorders and Centre for Global Health Histories on Twitter.
Tickets